"Islam isn't in America to be equal to any other faith, but to become dominant."
"Islam isn't in America to be equal to any other faith but to become dominant. The Koran … should be the highest authority in America, and Islam the only accepted religion on Earth."

CAIR co-founder Omar Ahmad
And where better to kick off that agenda than in New York City?
The Muslim American Society, Samidoun, designated as a terrorist group, and other pro-terror hate groups have put out flyers threatening to "Flood the Tree Lightning for Gaza".
The "flood" reference is to Al Aqsa Flood: the Hamas name for the atrocities of Oct 7.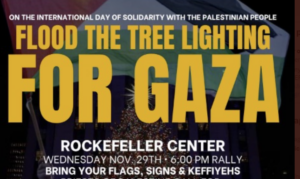 The Rockefeller Center Christmas tree lighting is a great New York tradition. But those are not things that Islam will tolerate.
The Muslim American Society, as Discover the Networks reveals, has as its mission to promote "Islam as a total way of life"
In May 2005, Daveed Gartenstein-Ross reported in The Weekly Standard that MAS is a U.S. front group for the Muslim Brotherhood — a claim supported by a September 19, 2004 Chicago Tribune story that stated: "In recent years, the U.S. Brotherhood operated under the name Muslim American Society, according to documents and interviews. One of the nation's major Islamic groups, it was incorporated in Illinois in 1993 after a contentious debate among Brotherhood members."  This Tribune article was later reproduced on the Muslim Brotherhood's English-language website, Ikhwanweb.
The Muslim Brotherhood is also the parent organization of Hamas.
MAS, like the Muslim Brotherhood, wishes to see the United States governed by sharia or Islamic law. "The message that all countries should be ruled by Islamic law," writes Gartenstein-Ross, "is echoed throughout MAS's membership curriculum. For example, MAS requires all its adjunct members to read Fathi Yakun's book To Be a Muslim. In that volume, Yakun spells out his expansive agenda: 'Until the nations of the world have functionally Islamic governments, every individual who is careless or lazy in working for Islam is sinful.'"

MAS's ties to the Muslim Brotherhood were confirmed on August 14, 2007, as The Investigative Project on Terrorism reported: "As the terror-support trial of the Holy Land Foundation (HLF) continued today, FBI agent Lara Burns testified that a phonebook found at the home of Ismail Elbarrasse — un-indicted co-conspirator and former assistant to HAMAS leader Musa Abu Marzook — listed the names and numbers of the Muslim Brotherhood leadership in the United States.
So we've got a Hamas-linked group threatening the Christmas tree lighting ceremony while New York politicians continue to tolerate this state of terror.
Finally, if there's any doubt as to what we're dealing with, here's a Muslim Society of America event from 2019. (That's where the screenshot is from.)
Disturbing footage of Muslim kids saying they would sacrifice themselves and kill for the "army of Allah" surfaced from an Islamic center in Philadelphia.

The Muslim American Society (MAS) Islamic Center in Philadelphia posted a video to its Facebook page celebrating "Ummah Day" in which young children wearing Palestinian scarves sang and read poetry about killing for Allah and the mosque in Jerusalem.

"We will defend the land of divine guidance with our bodies, and we will sacrifice our souls without hesitation," a second girl says. "We will chop off their heads, and we will liberate the sorrowful and exalted Al-Aqsa Mosque. We will lead the army of Allah fulfilling His promise, and we will subject them to eternal torture."
Hamas is here. Al Qaeda is here. ISIS is here. And yes, they don't intend to allow Christmas trees or menorahs.