SEE: https://www.massresistance.org/docs/gen4/22a/WY-Commissioner-resigns-after-pressure/index.html; republished below in full for educational & research purposes.
He had compared local parents to Nazis. Railed about parents' "ignorance and hate."
An arrogant pro-LGBT liberal who got elected in a conservative area.
A new pro-family Commissioner has been voted in to take his place!
February 9, 2022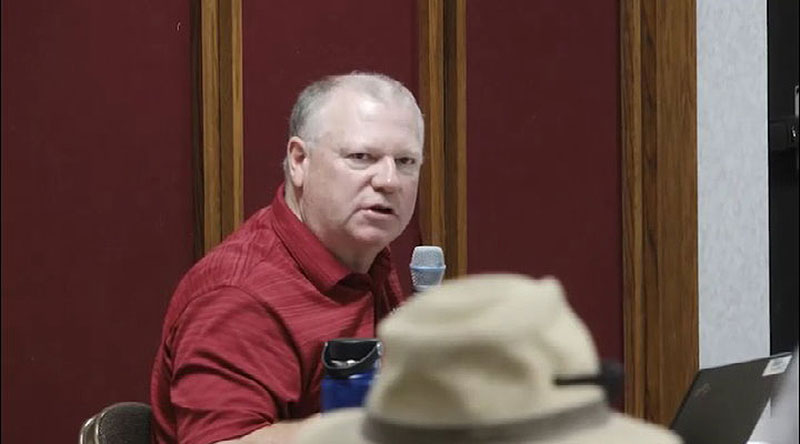 When it comes to arrogant anti-family public officials, parents don't have to just sit and take it. But they have to be willing to take a very strong stand and be persistent.
Like most areas in Wyoming, Campbell County is quite conservative. But unfortunately, liberals and RINOs have been elected to key positions. Last summer, local MassResistance parents began complaining to their County Commission about the pornographic and obscene LGBT books for children and teenagers appearing in the public library. Some of the graphic homosexual books for young teenagers are sickening even for adults.
The Library Board, which the County Commission controls, is run by leftists. But the five-member County Commission was stacked 3-2 against doing anything to challenge the Board.
A particularly hostile Commissioner
One County Commissioner, Daniel G. Reardon, was particularly hostile to the idea of shielding children from obscenity and LGBT pornography.
On July 13, Reardon sent an email to a constituent smearing the parents who had objected to a "transgender" performing for young children at the library. He wrote, "It is a sad state of affairs where we regress back to the Matthew Shepard days because of ignorance of hate." When this became public, parents were livid.
Then on August 12 during a County Commission meeting, Reardon suddenly launched into an angry rant against the parents in the room.
He started out by defending library staff and their bureaucratic "processes that are in place" for selecting the books and allowing for parents to fill out forms to "challenge" books. He said that the Commission's job is to support the Library Board.
He went on to say that "censoring" LGBT books (i.e., homosexual pornography) was equivalent to censoring books on guns, the military, blacks, or religions other than Christianity.
Then he really went off the rails. It's the parents who are not doing their jobs, he said. It's the parents' fault for not supervising what their children are reading in the library. He said that parents need to "stop talking about censoring, taking books out, burning books, and going back to the days of the Nazis."
An audience member angrily yelled back at Reardon that he was lying about the parents. Reardon had a Sheriff's officer escort the man out of the room. He then looked right at the parents and scolded them, "Don't tell us we're not doing our job. We are doing our job."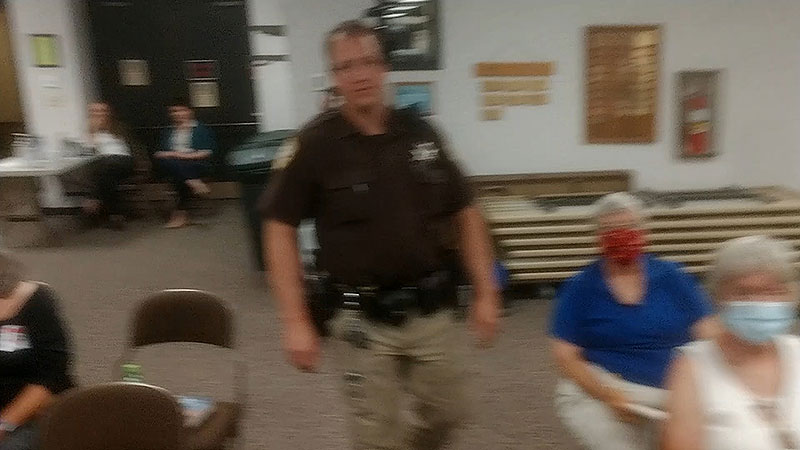 Parents fight back!
Reardon clearly intended to intimidate and silence the Wyoming MassResistance parents. But his tirade had the opposite effect.
Our activists made sure that the community heard about Reardon's offensive remarks. They got the message out on social media.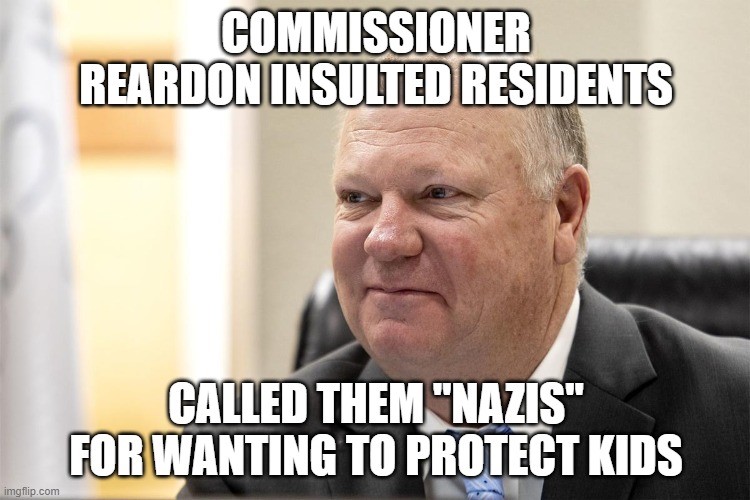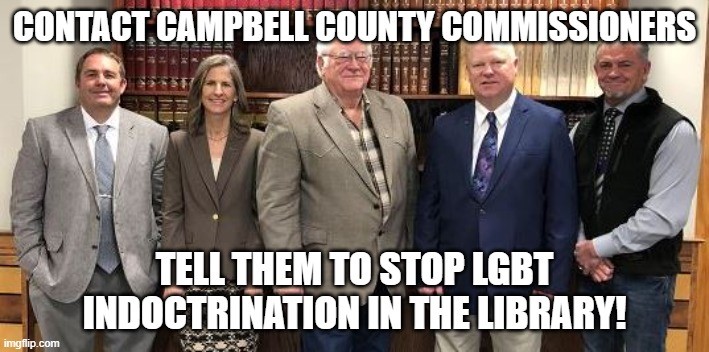 They leafletted the community: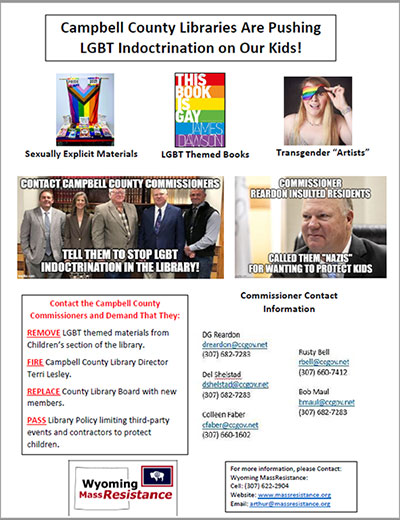 They continued to come to every County Commission meeting and Library Board meeting to demand that the local children be protected from the library staff's promotion of obscenity and pornography. Though the Commission's 3-2 majority refused to do the right thing, they were clearly being worn down.
In October they voted to ban all public comment to keep the parents from being able to complain at the Commission meetings. Of course, this just riled the parents up even more.
Reardon announces his resignation
On January 5, 2022, without prior notice, Reardon delivered a letter of resignation to the Campbell County Commission.
His "official" reason was that he had moved to another community (Cheyenne). However, as he told the local newspaper, his family had moved to Cheyenne some time earlier, and he had rented an apartment in Campbell County and was spending more than half of his time there. (It's not required to live in the County to serve on the County Commission.) He also cited his fear of COVID, though did not elaborate. Reardon said that he had "intended to serve his full term" through 2022, but changed his mind and decided to resign now.
This came just weeks after the Library Board Chairman had also suddenly announced her resignation, although she will continue to serve as a regular Board member.
A new pro-family Commissioner gets voted in!
Since Reardon was technically a Republican (though an insufferable RINO), the process for replacing him was for the local Republican Central Committee to nominate three people, and the Commissioners would vote to accept one of them.
The Commissioners apparently got the message from the outraged parents. At the Jan. 27 Commission meeting, they selected Don Hamm as the new Commissioner. According to the parents who met with the candidates, Hamm was right on their wavelength regarding the library problems.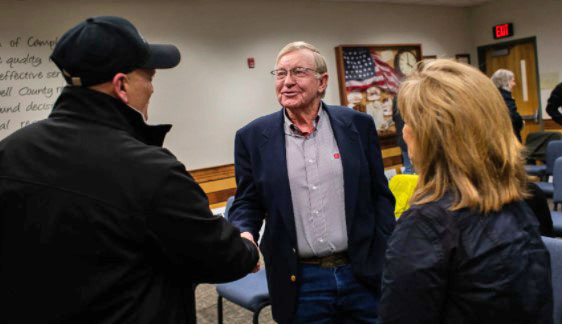 To start with, the parents are now expecting the Commission to repeal the offensive ban on public comment, when one of the family-friendly Commissioners also becomes the new Chairman this month. And there's talk of even bigger changes.
Final thoughts
We may sound like a broken record, but we'll say it again: These people running our libraries and the politicians who support them have neither morals nor conscience. They know what they're doing to children and are proud of it. Too many conservatives more interested in appearing reasonable and polite than standing up for the truth. But this gains them nothing. The best way: Be resolute and don't give up.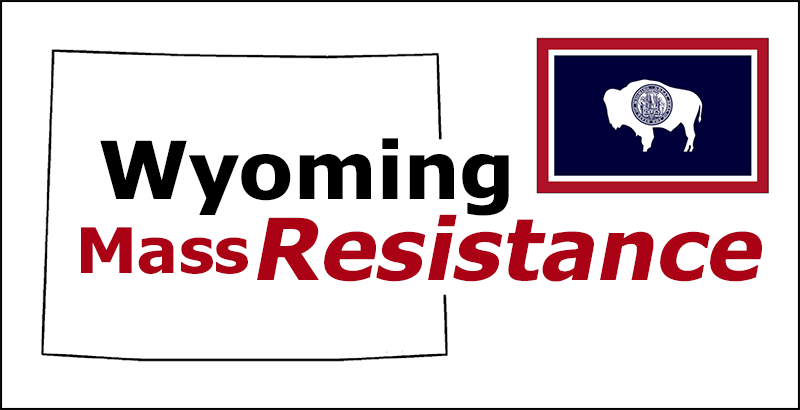 Please help us continue to do our uncompromising work!
Our successes depend on people like you.
Your support will make the difference!