Nun whose body shows little decay since 2019 death draws hundreds to rural Missouri
THE WORK OF GOD, SATAN, OR THE MORTICIAN?
INSERTED INTO THE GLASS CASE LIKE A MUMMIFICATION
RACIST POPE FRANCIS IS LIKELY TO DECLARE HER A SAINT TO GENERATE MORE CONVERSIONS; MEANWHILE, HIS PROPAGANDA IS BEING BROADCAST AT THE SAME TIME THE SUPREME COURT IS DECLARING AFFIRMATIVE ACTION AT COLLEGES & UNIVERSITIES AS REPEALED.
BIBLE QUOTES:
2 Corinthians 11:13-15
ESV

For such men are false apostles, deceitful workmen, disguising themselves as apostles of Christ. And no wonder, for even Satan disguises himself as an angel of light. So it is no surprise if his servants, also, disguise themselves as servants of righteousness. Their end will correspond to their deeds.
Matthew 24:24
ESV 

For false christs and false prophets will arise and perform great signs and wonders, so as to lead astray, if possible, even the elect.
2 Corinthians 11:3
ESV 

But I am afraid that as the serpent deceived Eve by his cunning, your thoughts will be led astray from a sincere and pure devotion to Christ.
1 John 4:1
ESV 

Beloved, do not believe every spirit, but test the spirits to see whether they are from God, for many false prophets have gone out into the world.
2 Peter 2:1-3-False Teachers and Their Destruction
1 But there were also false prophets among the people, just as there will be false teachers among you. They will secretly introduce destructive heresies, even denying the sovereign Lord who bought them—bringing swift destruction on themselves.
2 Many will follow their depraved conduct and will bring the way of truth into disrepute.
3 In their greed these teachers will exploit you with

feigned words and making merchandise of you

. Their condemnation has long been hanging over them, and their destruction has not been sleeping.
WAS BURIED  IN THE GROUND FOR FOUR YEARS
BY ASSOCIATED PRESS
SEE: https://www.nbcnews.com/news/us-news/nun-whose-body-shows-little-decay-2019-death-draws-hundreds-rural-miss-rcna87080;
Republished below in full unedited for informational, educational, & research purposes.
Some say it's a sign of holiness in Catholicism, while others say the lack of decomposition may not be as rare as people think.
People pray over the body of Sister Wilhelmina Lancaster at the Benedictines of Mary, Queen of Apostles abbey near Gower, Mo., on Sunday.Charlie Riedel / AP
The abbess of the Benedictines of Mary, Queen of Apostles speaks with reporter Catherine Hadro about Sister Wilhelmina's life and her experience when the foundresses' remains were exhumed.
Hundreds of people flocked to a small town in Missouri this week and last to see a nun whose body has barely decomposed since 2019. Some say it's a sign of holiness in Catholicism, while others say the lack of decomposition may not be as rare as people think.
Sister Wilhelmina Lancaster was exhumed in April, according to a statement from the Benedictines of Mary, Queen of Apostles, in Gower, Missouri.
The nuns had been preparing for the addition of a St. Joseph shrine, and that involved "the reinterment of the remains of our beloved foundress, Sister Wilhelmina," the statement said.
When they exhumed Lancaster, they were told to expect only bones, since she had been buried in a simple wooden coffin without any embalming four years ago.
May 31, 202301:34
Volunteers and local law enforcement have helped to manage the crowds in the town of roughly 1,800 people, as people have visited from all over the country to see and touch Lancaster's body.
"It was pretty amazing," said Samuel Dawson, who is Catholic and visited from Kansas City with his son last week. "It was very peaceful. Just very reverent."
Dawson said there were a few hundred people when he visited and that he saw many out-of-state cars.
Visitors were allowed to touch her, Dawson said, adding that the nuns "wanted to make her accessible to the public ... because in real life, she was always accessible to people."
The monastery said in a statement that Lancaster's body will be placed in a glass shrine in their church on Monday. Visitors will still be able to see her body and take dirt from her grave, but they won't be able to touch her.
The Diocese of Kansas City-St. Joseph also released a statement.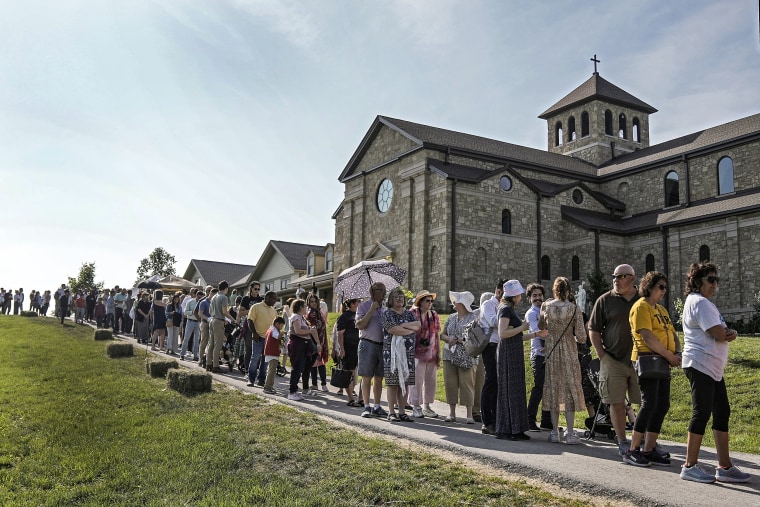 "The condition of the remains of Sister Wilhelmina Lancaster has understandably generated widespread interest and raised important questions," the diocese said. "At the same time, it is important to protect the integrity of the mortal remains of Sister Wilhelmina to allow for a thorough investigation."
"Incorruptibility has been verified in the past, but it is very rare. There is a well-established process to pursue the cause for sainthood, but that has not been initiated in this case yet," the diocese added.
The Benedictines of Mary, Queen of Apostles, also said that Lancaster has not yet reached the required minimum of five years since death for the sainthood process to begin.
Rebecca George, an anthropology instructor at Western Carolina University in North Carolina, said the body's lack of decomposition might not be as rare as people are expecting.
George said the "mummification" of un-embalmed bodies is common at the university's facility and the bodies could stay preserved for many years, if allowed to.
Coffins and clothing also help to preserve bodies, she said.
"Typically, when we bury people, we don't exhume them. We don't get to look at them a couple of years out," George said. "With 100 years, there might be nothing left. But when you've got just a few years out, this is not unexpected."