FDA THREATENS TO ENFORCE MANDATORY VACCINATION LAWS COUNTRYWIDE
THE MASK COMES OFF: "RINO" REPUBLICAN, RAISED IN POLICE STATE NEW JERSEY COULD EXPLAIN WHY:
FDA THREATENS TO ENFORCE MANDATORY VACCINATION LAWS COUNTRYWIDE
Federal government set to override state laws, force vaccines amid MSM-fueled measles hype
SEE:

https://www.infowars.com/fda-threatens-to-enforce-mandatory-vaccination-laws-countrywide/;

republished below in full unedited for informational, educational and research purposes: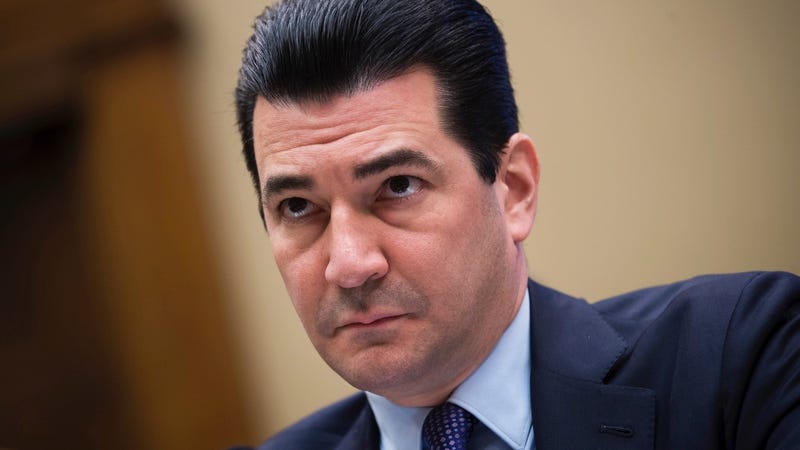 US Food and Drug Administration (FDA) Commissioner, Dr. Scott Gottlieb, warned Tuesday that the agency might have to step in and override state laws allowing unvaccinated children to attend public schools.
This would be a major move considering
nearly every state
grants religious exemptions and 17 states allow philosophical exemptions.
"Some states are engaging in such wide exemptions that they're creating the opportunity for outbreaks on a scale that is going to have national implications," Gottlieb said in an interview with CNN.
If "certain states continue down the path that they're on, I think they're going to force the hand of the federal health agencies," he continued.
The threat comes as mainstream media hypes measles outbreaks and continually blames "anti-vaxxers" for the spread of the infectious disease.
David Knight showed how measles used to be a common, non-threatening medical issue and is now being portrayed as the next bird flu or mad cow disease type of media manufactured national crisis.
Gottlieb looks to eliminate all religious and philosophical exemptions as he is reportedly "deeply skeptical" of anything other than a medical exemption.
"You could mandate certain rules about what is and isn't permissible when it comes to allowing people to have exemptions," Gottlieb explained.
While politicians move to force vaccinations on the public, social media giants and big tech internet censors are purging anti-vaccine content.
On Wednesday, top social media site Pinterest announced a ban on any vaccine-related searches whatsoever.
Pinterest has blocked all vaccine-related searches on the social media platform in an effort to combat the "misleading content" of the anti-vaccination movement, a spokesperson said Wednesday. Speaking in an appearance on CNBC, a spokesman for the online pinboard said it implemented the ban on the searches until it can come up with a more permanent strategy to tackle content attempting to discredit vaccinations.
Now, Facebook is the next social media giant being pressured to take down vaccination pages and articles as seen in the NBC piece below.
Below is a segment of The War Room where callers discuss the mass exodus from California being caused by mandatory vaccinations, among other liberal policies destroying the once iconic state.
Additionally, on the topic of vaccine exemptions, Alex Jones recently covered a Fox News clip promoting the imprisonment of doctors who grant parents vaccine exemptions for their children.
____________________________________________________________
HE'LL "FORCE THE HAND OF THE FEDERAL GOVERNMENT"
(BUT HE HAS NO AUTHORITY)
FDA Boss to States: Eliminate Vaccine Exemptions, or Else
Unable to convince Americans to fully trust vaccines with endless marketing propaganda and even government mandates, Food and Drug Administration boss Scott Gottlieb (shown) is now threatening to use federal force. Indeed, in bizarre comments made to national media, the senior health bureaucrat threatened that growing nationwide resistance to vaccination mandates may "force the hand of the federal government." In short, Gottlieb wants to force states to vaccinate children, even if it goes against the religion or conscience of the parents. Critics lambasted the comments and the sentiments as authoritarian and unacceptable.
One obvious problem with Gottlieb's threats is that the federal government has no power to mandate vaccines or tell states what to do on the issue. In fact, according to the U.S. Constitution's 10th Amendment, all powers not delegated to the federal government are retained by the states or the people.

Of course, vaccine mandates are not listed as a federal power; therefore, as the Supreme Court has recognized, this is a state issue.

Another problem for Gottlieb's agenda is that his own boss, President Donald Trump, has repeatedly suggested that vaccines may not be as safe and effective as Big Pharma and its government cronies want people to think they are.
But none of that appears to have phased the federal government's top "food and drug" bureaucrat. Speaking to CNN, a media outlet described by Gottlieb's boss Trump as "very fake news," the FDA commissioner tried to make his case for federal intervention. "Some states are engaging in such wide exemptions that they're creating the opportunity for outbreaks on a scale that is going to have national implications," he claimed this week, adding that if "states continue down the path that they're on, I think they're going to force the hand of the federal health agencies."
No specifics were provided, with Gottlieb saying only, "You could mandate certain rules about what is and isn't permissible when it comes to allowing people to have exemptions." Right now, only three states do not allow non-medical exemptions. But Gottlieb said he is "deeply skeptical" of those exemptions.
Before that, Gottlieb made similar comments to Axios last week, exploiting a handful of measles cases — many of them in vaccinated children, ironically — to push vaccination of children by fiat. "It's an avoidable tragedy," Gottlieb told the online news service about measles cases, adding that he is normally a proponent of states rights but not when it comes to informed consent on vaccines. "Too many states have lax laws." Dr. Anthony Fauci, the head of the National Institute of Allergy and Infectious Diseases at the National Institutes of Health (NIH), has been making similar noise on the issue.
By contrast, on the campaign trail, their boss sounded a drastically different tune. For instance, Trump openly and repeatedly suggested that vaccines may cause autism, highlighting the growing "epidemic" that he and many other prominent voices have linked to vaccinations. Dr. William Thompson, a senior scientist at CDC, became a whistleblower after discovering that the CDC was omitting important data linking vaccines to autism. "We lied about the scientific findings," he explained. "The CDC can no longer be trusted to do vaccine safety work." Seizing on those concerns, among other problems with mandatory vaccination, Trump called for families to have "discretion" in decisions about whether and when to give their children vaccines. Other 2016 GOP presidential candidates agreed.
Interestingly, the UN WHO, which has been caught on multiple occasions using vaccines laced with sterilizing agents in Africa and Latin America, called on governments to punish those who refuse to accept vaccines. The UN body also urged healthcare workers to lie to patients, specifically instructing them to tell concerned parents vaccines cannot cause harmful side effects, illness, and even death. In reality, the package inserts for vaccines all admit that they can cause injury or death. Even the federal government acknowledges this when it forces taxpayers — not Big Pharma — to accept the liability for injuries and deaths caused by vaccines. Billions have been paid out to victims of vaccine injuries and families of those who have died.
But critics are fighting back. President Barbara Loe Fisher of the National Vaccine Information Center (NVIC), which opposes vaccination mandates, slammed the exploitation of a few measles cases to push draconian policies. "It is highly inappropriate for federal officials, particularly the commissioner of the FDA who is legally responsible for regulating vaccines, to threaten state legislators
with federal action if they do not tighten exemption laws," she told
The New American
in a phone interview, adding that vaccine laws have always been a state issue dating back to a 1905 Supreme Court case. "It is our position that the federal government should not be interfering in what is clearly a state issue." To make their point, the group
put up a giant ad in Times Square
demanding health freedom and urging people to research the risks associated with vaccines.
Also of great concern, she said, is that the vaccine industry is completely immune from liability when its products cause injuries and death. Instead, thanks to intense lobbying by Big Pharma, American taxpayers end up compensating victims of vaccines, a subsidy that is unique and unprecedented among any industry. "This makes personal-belief exemptions very, very important in vaccine laws," Fisher noted. "This is an informed consent issue. And informed consent has been defined as a human right since after WWII. This is also a first amendment issue — freedom of religion and freedom of conscience are at stake. For federal officials to be rattling their swords and threatening state legislators is not appropriate — it is interfering with states rights."
Noting that there have been just over 120 measles cases so far this year out of a population of 320 million, the NVIC chief said this was not a public health emergency of any kind. However, similar media-driven hysteria was exploited by Big Pharma allies in the California legislature in 2015 to end all personal-belief exemptions there, including religious objections. "They are using 127 cases of measles this year to do the same thing in other states," Fisher added. And already, there are almost 115-vaccine related bills pending in state legislatures across the country, including many that would eliminate exemptions. She urged concerned Americans to get involved in the fight using the NVIC Advocacy Portal to contact their elected officials.
But it is not all bad news. In fact, the NVIC is actually supporting 50 of those bills, because they expand or protect exemptions from vaccine mandates. "What this means is that since California lost its exemptions, not one state has done the same thing," Fisher said. "So the same lobby that was in place in 2015 is still there, but we have been able to protect these exemptions. I think it is very important that people have been educating their legislators. And many legislators have been listening, and they understand the dangers, they understand that there is no liability, they understand that the government has not done the kind of studies that should have been done on these vaccines. We are encouraged that so many legislators are listening."
Aside from dealing with international borders, Fisher said vaccine laws have always been at the state level, and they should remain there. But this is about more than just states' rights. "This is about human rights," she said. "America needs to be very careful about going down a road that eliminates freedom of conscience when it comes to what you put in your body. This is about values. Are we going to reject the Bill of Rights and our founding principles, or have a strong authoritarian government that eliminates our rights? That is what this comes down to."
Ironically, as The New American documented in 2015, the federal government's own data indicates that a child in America is far more likely to die from an adverse reaction to a measles vaccine than from the measles itself. Indeed, until Big Pharma's marketing gimmicks and government cronies were able to terrorize the public with fear-mongering, measles was typically regarded as a mostly harmless childhood illness that everybody would experience. Characters on popular TV shows such as The Brady Bunch laughed and joked about measles infections. Measles mortality had plummeted to almost nothing by the time the vaccine was introduced in the 1960s. Today, though, vaccine makers and their allies in government act as if it were some sort of catastrophic ailment that threatened civilization.
Mandating vaccines is a major violation of the fundamental, God-given rights of every American. It is a violation of medical ethics and informed consent, too. Using the federal government to mandate vaccines, meanwhile, is a flagrant violation of the Constitution that created the federal government in the first place — the same Constitution Gottlieb swore an oath to uphold and defend. If he feels unable to respect the Constitution and his oath, he should resign immediately. And if he refuses, Trump should fire him. Regardless of where one stands on the risks and efficacy of vaccines, government-mandated medical treatments should not even be a topic of discussion in a civilized society.
_______________________________________________________
SEE ALSO:
F.D.A. Nominee, Paid Millions by Industry, Says He'll Recuse Himself if Needed
https://www.nytimes.com/2017/03/29/health/fda-nominee-scott-gottlieb-recuse-conflicts.html
AND:
https://en.wikipedia.org/wiki/Scott_Gottlieb
_______________________________________________________
Scott Gottlieb is an American physician and conservative health policy analyst. He is a clinical assistant professor at New York University School of Medicine, a resident fellow at the conservative American Enterprise Institute, and an internist at Tisch Hospital.
Early life and education
Prior to attending medical school, Gottlieb worked as a healthcare analyst at the investment bank Alex. Brown & Sons in Baltimore.
He completed a residency in internal medicine at the Mount Sinai Medical Center in New York and is a graduate of the Mount Sinai School of Medicine of the New York University and of Wesleyan University, in Middletown, Connecticut, where he studied economics.
U.S. government work
Gottlieb has worked in multiple roles for the Federal government of the United States, including Deputy Commissioner for Medical and Scientific Affairs at the U.S. Food and Drug Administration (FDA), in which capacity he served from 2005 to 2007. He helped initiate the early development of FDA's generic drug user fee program and the Agency's release of the Physician Labeling Rule. He also worked on development of the FDA's policies related to the tentative approval of fixed dose combination drugs for the treatment of HIV/AIDS under the PEPFAR program. He was appointed to the Senior Executive Service and granted a top secret security clearance during his appointment as FDA's Deputy Commissioner for Medical and Scientific Affairs. He was also as a member of the White House Biodefense Interagency Working Group, which was convened after the September 11, 2001 attacks to help draft a strategic plan for the development of U.S. biodefense countermeasures. While working for the FDA, Gottlieb had to recuse himself from working on planning for a possible bird flu epidemic due to his ties to pharmaceutical companies. Before becoming the FDA's Deputy Commissioner, Gottlieb served as a senior advisor to the FDA Commissioner and as the FDA's Director of Medical Policy Development.
In 2013, Gottlieb was appointed by the Senate Minority Leader Mitch McConnell to serve as a member of the Federal Health IT Policy Committee which advises the U.S. Department of Health and Human Services and is responsible for making recommendations on the meaningful use standards as part of the HITECH Act. In 2016 members of President-elect Donald Trump's transition team said Trump was considering Gottlieb to head the FDA as its Commissioner. Gottlieb worked as an advisor to, and then a member of the Trump Transition Team starting from the Summer of 2016. He was previously a Senior Advisor to the 2016 Presidential campaign of Wisconsin Governor Scott Walker.
He has testified as an expert witness before committees of the United States House of Representatives and the United States Senate on issues related to FDA regulation, healthcare reform, and medical innovation. Gottlieb is on the editorial board of the Food and Drug Law Institute's publication Food and Drug Policy Forum.
Other roles
Gottlieb is a member of the Public Policy Committee to the Society of Hospital Medicine, is an adviser to the National Coalition for Cancer Survivorship, and is a member of the editorial board of the Food and Drug Law Institute's Policy Forum. He is a venture partner at New Enterprise Associates, and is an independent director at Tolero Pharmaceuticals, and Daiichi Sankyo Inc, and a member of GlaxoSmithKline's product investment board. He is also a partner at T.R. Winston, a Los Angeles-based merchant bank with a focus on healthcare.
He has also worked as a senior policy advisor to the Administrator at the Centers for Medicare & Medicaid Services, where he worked on implementation of the Medicare Prescription Drug, Improvement, and Modernization Act and the Medicare Part D drug benefit, and helped advance the agency's coverage policies related to new medical technology. Gottlieb was previously on the policy board to the Leukemia and Lymphoma Society and an advisor to Cancer Commons.
Writing
Gottlieb is a former member of the editorial staff of the British Medical Journal (BMJ), and a member of the editorial board of a section of the Journal of the American Medical Association (JAMA).
He is a regular contributor to the editorial page of the Wall Street Journal and writes regularly for Forbes. In his various writings, Gottlieb was a frequent and early critic of the Affordable Care Act. He wrote an editorial in the Wall Street Journal, the day of the health plan's launch, predicting the ensuing problems with the healthcare.gov website. Gottlieb also appears regularly on CNBC and Fox News.
_____________________________________________________________
HE'S CONVINCED: NO CAUSAL RELATIONSHIP BETWEEN VACCINES & AUTISM
Start at 5:00 Minute Mark