THIS WICKED "APOLOGIST" DECEIVED & ABUSED MANY WITH LITTLE OR NO DISCERNMENT
"Remembered during a May 29 memorial service as a "gentle giant of our faith" and the "C.S. Lewis of our day.""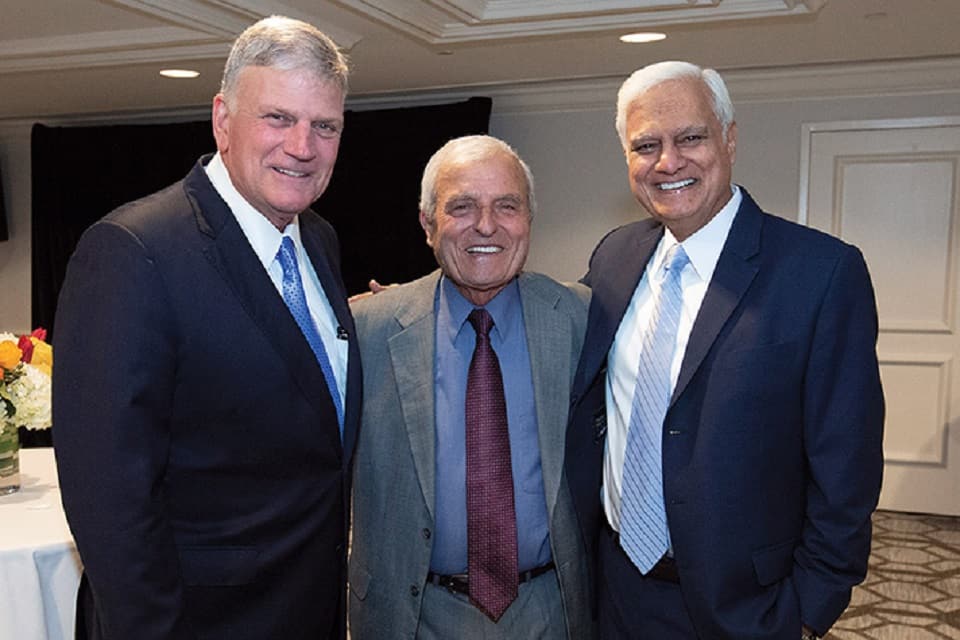 Full Report On Ravi Zacharias 'Inappropriate Dealings' Released Is HORRIFYING 11th Feb, 2021
SEE: https://www.rzim.org/read/rzim-updates/board-statement
AND: https://s3-us-west-2.amazonaws.com/rzimmedia.rzim.org/assets/downloads/Report-of-Investigation.pdf
SEE: https://christiannews.net/2021/02/12/rzim-board-ordered-investigation-confirms-significant-evidence-ravi-zacharias-engaged-in-sexual-misconduct/;
republished below in full unedited for informational, educational & research purposes:
An independent report by a firm hired by Ravi Zacharias International Ministries ("RZIM") to investigate claims of their founder's alleged sexual misconduct has recently been published by RZIM on its website. The 12-page report, which found "significant evidence" of sexual misconduct by the late apologist Ravi Zacharias, along with "evidence of text- and email-based relationships with women who were not his wife" and "over 200 'selfie'-style photographs of women" on Zacharias' electronic devices, followed an open letter by RZIM's International Board of Directors which cited the leadership's desire to "help the victims of Ravi's abuse" and to take steps to ensure "nothing like this happens again."
"It is with shattered hearts that we issue this statement about the allegations against RZIM's Founder, Ravi Zacharias," the open letter linked on the front page of the RZIM site states.
"Following allegations made in late August of 2020 that Ravi had engaged in sexual misconduct and abuse in connection with two-day spas, we commissioned Miller & Martin PLLC, a law firm with experience in corporate and sex crimes investigations, to conduct an independent investigation. We gave Miller & Martin a broad scope to pursue any avenues that they judged to be relevant to the accusations, and we emphasized that our only purpose for the investigation was to ascertain the full truth," the board statement reads.
"Having received the results of the investigation, we are publicly releasing the investigation report in the exact form that we received it. We have been waiting to make an extended statement in the hope that the full findings of the investigation would allow us to speak more accurately and meaningfully. We also wanted to ensure Miller & Martin's independence in their investigation, assessments, and reporting of the findings," it continues.
According to the Miller & Martin report, which can be read in full here, the investigators "confirmed one of the three accounts described in the Christianity Today article," which gave rise to the concerns, "and found significant evidence of sexual misconduct involving additional massage therapists." Additionally, the report states that they "also reviewed Mr. Zacharias's electronic devices and found evidence of text- and email-based relationships with women who were not his wife, as well as over 200 'selfie'-style photographs of women."
RZIM stated that as a result of the new report they are now seeking the Lord's will on the "future of the ministry."
"Our prayer has been that the truth would be known. For this answer to prayer, we are thankful, even though we express this gratitude through tears. The humbling process of seeking counsel from survivors and advocates and of writing this statement has made us profoundly aware that even what we say now is vastly insufficient and merely a starting point for all that needs to be said and done in the days ahead," the board expressed in its open letter published on the RZIM site.
"In light of the findings of the investigation and the ongoing evaluation, we are seeking the Lord's will regarding the future of this ministry. We are learning much through this time and hope to have the chance to apply these lessons in the future. We remain passionate about seeing the gospel preached through the questions of culture. We will be spending focused time praying and fasting as we discern how God is leading, and we will speak to this in the near future," the board statement reads in part.
Read full "Report of Independent Investigation into Sexual Misconduct of Ravi Zacharias"
___________________________________________________________________________
Ravi Zacharias Sexual Misconduct Report Released, It's Worse Than We Thought
SEE: https://reformationcharlotte.org/2021/02/12/ravi-zacharias-sexual-misconduct-report-released-its-worse-than-we-thought/;
republished below in full unedited for informational, educational & research purposes:
The late Ravi Zacharias, who passed away last year after a long battle with cancer, has been scrutinized for several years by discerning Christians for allegations made against him for sexual misconduct. The allegations came to light in 2018 when we received copies of text messages between Zacharias and one of his victims. Unsurprisingly, the vast majority of Evangelicalism did not take the allegations seriously, save a few discernment blogs.
In 2018, it became public that Zacharias had been involved in a years-long "sexting" scandal and an emotional affair with another woman other than his wife. Zacharias admitted that he was caught up in the emotional aspect, privately in conversation with another woman who had been sending him nude pics of himself, but denied that it ever went any further than that.
Other allegations were made against Zacharias by a retired Detective Constable from the Ontario Provincial Police after 34 years of service that Zacharias, while a minister, pressured a teenage girl to have an abortion "if our careers are to survive." To our knowledge, Zacharias never addressed these allegations.
During his recent years in ministry, Zacharias turned his ministry largely in the direction of social justice and wokeness — following the trends of the culture and the world. In 2019, Zacharias invited gay Anglican priest, Sam Allberry, to speak at one of his events where he allowed Allberry to say that Jesus had "body dysphoria," therefore, he was able to identify with transgender people who experience "gender dysphoria."
Therefore, it is unsurprising to us that an independent investigation into the sexual misconduct of Ravi Zacharias has revealed that all of these allegations against him are true and that Zacharias used his ministry as a launching pad to gain sexual favors from women other than his wife.
To the ministry's (RZIM) credit, those involved do seem to be genuinely repentant and serious about making amends with the victims. However, at this time, it is unclear who sits on the board and who exactly is responsible for the cover-up.
Several key points are made in the 12-page report which was conducted by the investigative firm Miller & Martin PLLC as follows:
"We also reviewed Mr. Zacharias's electronic devices and found evidence of text- and email-based relationships with women who were not his wife, as well as over 200 'selfie'-style photographs of women."

"There were over 200 massage therapist contacts in Mr. Zacharias's phones, including many overseas."

"Several massage therapists confirmed Mr. Zacharias's frequent efforts to 'try for more than a massage,' as one therapist put it. Eight therapists reported that Mr. Zacharias would start the massage either completely nude or would remove the sheets during the massage. Six therapists reported that he always or almost always had an erection during the massage. Four therapists reported that he would either touch his genitals or ask them to touch his genitals. And five therapists reported that he touched or rubbed them inappropriately."

"Only one of the witnesses we interviewed said that Mr. Zacharias engaged in sexual intercourse. This witness reported details of many encounters over a period of years that she described as rape. To protect her identity, this report does not disclose many of the details she shared with us. She reported that after he arranged for the ministry to provide her with financial support, he required sex from her. According to this witness, Mr. Zacharias used religious expressions to gain compliance, as she was raised to be a person of faith. She reported that he made her pray with him to thank God for the 'opportunity' they both received. She said he called her his 'reward' for living a life of service to God, and he referenced the 'godly men' in the Bible with more than one wife. She said he warned her not ever to speak out against him or she would be responsible for the 'millions of souls' whose salvation would be lost if his reputation was damaged."

"The four phones that Mr. Zacharias used and that RZIM provided to us for this investigation also provided significant, compelling evidence. For example, in the Notes application of one of Page 9 of 12 of his phones, Mr. Zacharias kept translations of certain words and phrases in Thai and Mandarin. The Thai phrases included 'I miss you so much. I want to see your face' and 'little bit further.' The Mandarin phrases included: 'softer, lighter;' 'U R beautiful;' 'not enough;' 'I hope our love lasts forever;' 'I love you from the bottom of my heart;' 'I'd like to have a beautiful memory with you;' 'Life is so wonderful because [sic] I could meet you;' 'Your lips are especially beautiful;' and 'I love you darling.'"

"In 2014, Mr. Zacharias met and exchanged emails with a massage therapist who lived in Bangkok. They used pet names such as 'sweetheart,' 'baby,' 'babe,' 'darling,' 'angel,' 'my precious little girl,' and 'honey;' they exchanged selfies (the latest photograph of her is from 2019); and they discussed how much they loved and missed each other. During a May 2014 coup d'etat in Thailand, Mr. Zacharias expressed his worry that travel to Bangkok could be stopped. He told her: 'I know more than ever that you have become the love of my life. I'm waiting to hold you close to my heart again. Please be safe my angel. I Love you and goodnight from here.' He told her to keep him 'as the only one in your heart. I love you my dearest xxxxxx.'"

"Their communications imply that their relationship had a physical component. They discussed not being able to wait until they can be together, that he is 'longing to hold [her] close again.' He further wrote: 'Your face, your smile, your laugh, your touch, the way you love, your




hard work, your heart, your care for me, your skill,' and on and on and on. He called her 'beautiful in heart and in body.' She responded later: 'I love you and kiss you everywhere xxxxxx.' She said to him she was going to work out 'to be fit and firm when I see you next month =).' This woman received significant financial support from TOH [Editor's note: RZIM slush fund]."

"In addition to communications, Mr. Zacharias's phones contained over 200 photographs of women much younger than him—including six of Lori Anne Thompson—and dozens of photographs he took of himself."

"Travel records confirm that Mr. Zacharias was in Malaysia at the time. Over time, more pictures of this woman appeared in Mr. Zacharias's phone, most of which were relatively innocuous and show her fully clothed. However, the photographs grew increasingly more suggestive, culminating in two photographs showing her bare breasts dated October 27, 2018, and a video of her fully naked and touching herself dated January 8, 2019. Two other women told us that Mr. Zacharias asked for nude photographs, which they refused to provide."

"In addition to finding alone time when he traveled with others, Mr. Zacharias traveled alone to Bangkok and other parts of Southeast Asia for substantial periods of time. RZIM staff described these as writing trips where he would work on his latest book. On such trips, he would stay for days and sometimes weeks alone. According to a text message to a Thai masseuse in February 2016, he spent his days writing and his nights receiving massage treatments."

"We did consider his statements and actions when confronted with similar situations in the past, most notably the Thompson matter. Several RZIM staff reported to us his 'shifting narrative' as emails and other relevant facts were publicly leaked and he was forced to explain them. Rather than fostering an environment of truth-seeking and transparency, Mr. Zacharias was strident and inflammatory. He described his critics as 'nasty people' and 'lunatics' who were engaging in 'satanic-type' slander and falsehood."

"Mr. Zacharias told certain members of his staff that the phone records and full, complete emails would exonerate him, but he did not give them access to these documents. Two high-level staff approached him directly asking for the phone records, since he claimed they would prove exculpatory. Both of these staff members told us Mr. Zacharias responded to this request with rage and threatened to resign from the organization."

"Some therapists also reported that Mr. Zacharias paid very well or would leave large tips and gave gifts that were at times lavish, such as a Persian rug or a Louis Vuitton wallet with $500 inside."

"Several RZIM staff reported to us that they were concerned about Mr. Zacharias traveling with a personal masseuse, not because they feared actual impropriety but because they feared the appearance of impropriety. A high-level RZIM staff member expressed concerns to Mr. Zacharias about it and encouraged him to stop traveling with her. In response, Mr. Zacharias grew angry and barely spoke to this staff member for a long period of time."

"According to his text messages, at times he would meet the therapists in the hotel lobby and at other times he would direct them to come straight to his room. On one occasion in February 2016, he slipped his room key to a massage therapist by placing it in a book, directing her to come to his




room '2 minutes after' she got the book from him."
_________________________________________________________________________
Thompson is the Canadian woman accused by Zacharias in 2017 of sending "unwanted" nude pictures to the late apologist in an attempt to extort him. (Zacharias died on May 19, 2020.) 
Yet according to the letter, the nude photos were not only wanted by Zacharias; they were invited. And they were the culmination of months of emails, phone calls, gifts, and other advances by a man who "sensed" Thompson's "deficit and used it to his own end."
LORI ANNE THOMPSON'S VICTIM IMPACT STATEMENT ON VIDEO:
https://www.pscp.tv/w/1ynJOBNvdQyGR#
SEE ALSO: https://www.chvnradio.com/articles/victim-of-ravi-zacharias-breaks-silence-and-nondisclosure-agreement-with-victim-impact-statement
EXCERPTS:
The woman who says Ravi Zacharias coerced her into an inappropriate sexual relationship has released a video recounting how the alleged abuse has impacted her, despite a nondisclosure agreement still in place.
At the time, the Christian and Missionary Alliance, the denomination which held Zacharias' ministry credentials, said the "evidence does not provide the basis for formal discipline under the C&MA policy."
She recounted the grooming process that Zacharias conducted in a letter obtained by the Roys Report in 2020.
Zacharias later sued the woman and settled with her, which included the non-disclosure agreement. She has since attempted to be released from the NDA from Zacharias' family which they have denied.
In refuting the original claims, Thompson says that Zacharias (whom she refers to throughout the transcript of the statement as RZ) "used a former local church abuse experience where my husband and I had been victims of a financially and spiritually abusive cleric, to support his fantastical claim that we were a litigious couple who sued people for financial gain. 
_____________________________________________________________________
SEE ALSO: https://julieroys.com/ravi-zacharias-groomed-woman/
_____________________________________________________________________
WHAT THEY DIDN'T KNOW?
Kayleigh McEnany's Emotional Tribute To Ravi Zacharias
Vice President Mike Pence on Ravi Zacharias