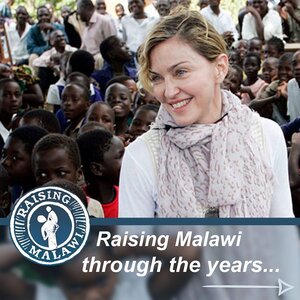 SEE: https://www.raisingmalawi.org/
BY CHRISTINE DOUGLASS-WILLIAMS
SEE: https://www.jihadwatch.org/2023/01/madonnas-malawi-orphanage-accused-of-child-trafficking-based-on-lgbtqia-content;
Republished below in full unedited for informational, educational, & research purposes.
The Ethiopian World Federation has gone to Malawi's President Lazarus Chakwera in order to ask that he investigate 'homosexual and transgender' allegations over the adoption of the Malawian children for possible 'human trafficking and social experiments.'" At the center of the controversy is the American "Queen of Pop," Madonna, her charity, Raising Malawi, and the woke icon's exploitation of Malawian authority and its most vulnerable children. The Federation is asking that President Chakwera "restrict her and her associates' accessibility to Africa and to African children as a precautionary measure until a thorough investigation is done into child trafficking, sexual exploitation, sexual slavery, adoption reversal, the threat of coercion, fraud, deception, and abuse of power or vulnerability." The principle of "innocent until proven guilty" should be remembered in this case, but there are undeniable facts to consider regarding Madonna which render her unsuitable to be around children, let alone to be given an opportunity to influence them.
The anything-goes Madonna, who boasted that her son whom she adopted from Malawi looks better in her clothes than she does, was the center of controversy in 2006 for barging into the East African country (in a private jet to boot), "stepping outside of normal procedures," and using her fame, money and "privilege" to gain access to Malawi's orphanages and adopt Malawian children. The Human Rights Consultative Committee (HRCC) filed a motion at that time "to ensure that Madonna's adoption procedure followed the letter of the law." But it failed. Madonna felt that she was beyond the law and found a way to maneuver outside the law in Malawi. The Adoption of Children Act, which governs Malawi, is intended to apply equally to anyone considering adoption, regardless of status and income. As one children's rights advocate put it: "Procedures are there to ensure that we reduce incidences of children being trafficked, to reduce the incidences of children being separated from their parents…This is why we have rules." And now Madonna is being investigated for those very "incidences."
Ironically, Madonna claims to advance black rights. She was an avid supporter and participant in the Black Lives Matter protests of 2020, even attending a demonstration on crutches as she recovered from an injury. The Black Lives Matter movement, notorious for its presence around the George Floyd hoopla, has a much broader focus, including the rejection of Israel as an "imperialist project," "disruption of the Western-prescribed nuclear family," an emphasis on colonialism, and an obsession with "white privilege." Despite Madonna's advocacy for black rights, she proceeded without caution to barge into Malawi and bully her way into establishing an orphanage. It has now been seventeen years since Madonna landed in Malawi to "rescue" Malawian children. Madonna is known for her outrageous publicity stunts and self-serving behavior. The Ethiopian World Federation petition states of Madonna that the "psychology behind her ability to release child pornography, religious imagery, bestiality, and vulgar pornography has prompted her to open an orphanage in Malawi named 'Raising Malawi' in 2006 to host social experiments on vulnerable African children in Malawi."
While Madonna is now being investigated for the horrors of exploiting and corrupting black children in Malawi, the usual voices that are quick to levy charges of racism, colonialism, white privilege and the like are notably silent.
Recently, Italian Prime Minister Giorgia Meloni, who has been smeared by Leftist ideologues as a "far-right fascist," slammed France for exploiting African children, particularly in the gold mining industry, and its hypocritical welcoming of African migrants.
The double standards of the mainstream media and of the far Left anti-racism industry is stark. The real victims continue to be ignored, while those who call out abuses are silenced. Victims including African children, women abused under the Sharia, Nigerian Christians ravaged by genocide, and women who have been exploited by transgender men in sports and raped by men who identify as women, are being systematically ignored.