Obama judge orders Indianapolis schools to allow 10-year-old trans child to rejoin girls softball team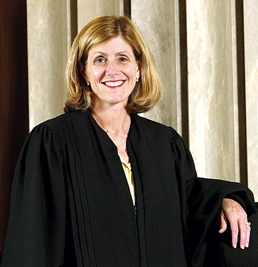 BY CHRISTINE DOUGLASS-WILLIAMS
SEE: https://www.jihadwatch.org/2022/07/obama-judge-orders-indianapolis-schools-to-allow-10-year-old-trans-child-to-rejoin-girls-softball-team;
republished below in full unedited for informational, educational & research purposes:
One of his first acts Joe Biden did as President — only a day into his presidency — was to sign an executive order to allow trans athletes full access to female sports, and also to expand access to "gender-affirming" medical care, including to youth. It should come as no surprise that U.S. District Court Judge Jane Magnus-Stinson was nominated by Barack Obama. In the first place, how on earth is a 10-year-old transgender? All youngsters grapple with identity issues, and it is abuse for those issues to be hijacked by adult political agendas, which are physically and psychologically harmful to the child in the long term. In Florida, a mom sued her daughter's school for helping her 13-year-old daughter transition without parental consent. Also in Florida, State Farm dropped support for books promoting transgenderism to five-year-olds, but only after a public uproar.
While Leftist media presented Biden's executive order as "curbing discrimination" against the transgender community, it isn't discrimination that undergirds opposition to trans athletes in female sports. It is for the protection of female athletes, who have little to no chance in competition with athletes who identify as women but are in fact, biological males. A female swimmer at UPenn admitted that the team's support for transgender swimmer Lia Thomas (who was smashing Ivy League records) was fake. Caitlyn Jenner has also blasted the National Collegiate Athletic Association (NCAA) for permitting trans women to compete with natural-born females.
Opposition to the transgender encroachment on female sports and female privacy is for the overall safety and protection of women. Two women were impregnated by a transgender individual in a women's prison in Jersey, while a woman was raped by a transgender individual in a UK hospital's all-female ward.
"Indiana school must allow a transgender girl to rejoin softball team, judge rules," by Brooke Migdon, The Hill, July 26, 2022:
A federal judge on Tuesday temporarily blocked Indianapolis Public Schools (IPS) from enforcing a state law preventing transgender athletes from competing on sports teams consistent with their gender identity, siding with a transgender 10-year-old that was forced off her school's all-girls softball team after the law took effect this month.

U.S. District Court Judge Jane Magnus-Stinson issued the preliminary injunction, finding that Indiana's House Bill 1041, which went into effect July 1, likely violates Title IX and the Supreme Court's ruling in Bostock v. Clayton County, which held that discriminating against an individual for being transgender constitutes sex discrimination.

In a lawsuit filed by the American Civil Liberties Union (ACLU) of Indiana in May, the group argued on behalf of a 10-year-old transgender girl – identified pseudonymously in the complaint as A.M. – that the state's transgender athlete ban was discriminatory and unconstitutional.

According to the complaint, A.M. had been permitted to play on her school's girl's softball team last school year, but was informed by IPS once the law took effect that she is no longer able to participate because she is transgender.

America is changing faster than ever! Add Changing America to your Facebook or Twitter feed to stay on top of the news.

A.M. informed her family that she was a girl before her fourth birthday, and has consistently used her preferred female first name and pronouns, according to the lawsuit. She has been diagnosed with gender dysphoria and is currently taking a puberty blocker.

In her order on Tuesday, Magnus-Stinson wrote that A.M.'s challenge to the lawfulness of House Bill 1041 "raises controversial issues regarding the boundaries of Title IX and whether and how those boundaries should stretch and shift in an ever-changing world."

Magnus-Stinson added that A.M. has shown that she has a "likelihood of succeeding on the merits of her claim."

Under Indiana's House Bill 1041, school sports teams are required to be designated according to the athletes' sex assigned at birth, rather than their gender identity.…