Citizens halt radical 'Diversity, Equity, & Inclusion' push in TEMPLE, Texas
SEE: https://www.massresistance.org/docs/gen4/22c/Stopping-DEI-in-Texas-city/index.html;
republished below in full unedited for informational, educational & research purposes:
Texas MassResistance forces city to stall radical "Diversity, Equity, and Inclusion" indoctrination agenda for municipal employees.
A victory! Momentum is there for a full stop to it.
Conservative town would be force-fed programs from far-left pro-LGBT group – being pushed by Mayor and City Council.
July 21, 2022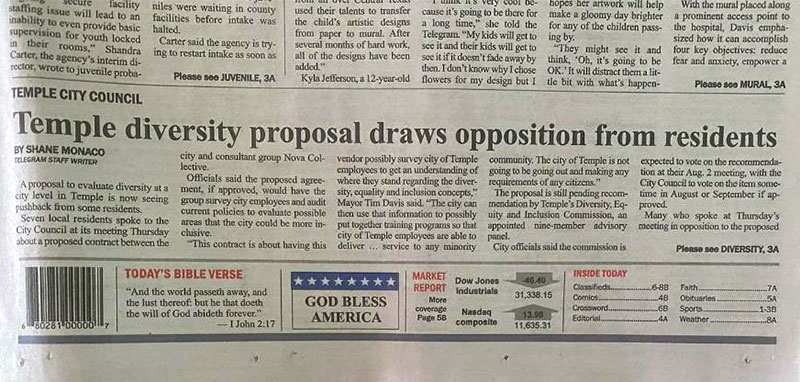 Dozens of residents in Temple, Texas have forced the city to table its plans to impose a radical, pro-LGBT "Diversity Equity and Inclusion" (DEI) indoctrination program on all municipal employees. The city backed down following strong organized pushback by citizens. There is now momentum to derail the DEI program permanently over the next several months.
Temple is located about 40 miles north of Austin in a region with a largely conservative, Christian population.
The residents' effort was organized by Concerned Christian Citizens (CCC), a local Texas MassResistance affiliate. CCC's MassResistance activism in that area goes back several years. In 2017 they put on a conference on the LGBT agenda in nearby Killeen. In 2018 they organized over 50 parents in Temple to confront the Library Board over its promotion of homosexual materials for children.
Make no mistake: City DEI efforts like this are going on across America!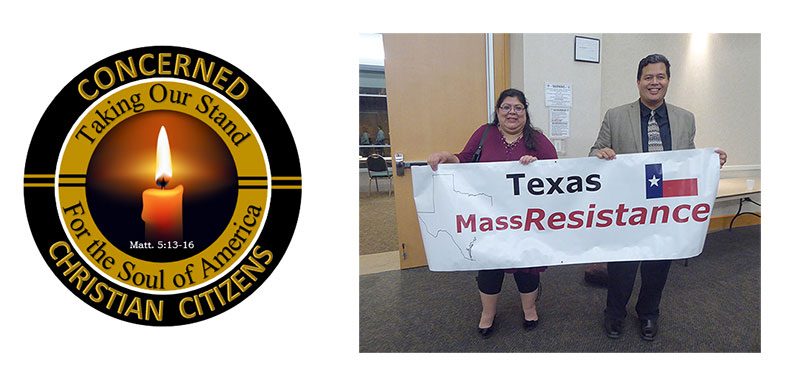 The problems started with a tragic traffic stop in 2019
The apparent necessity for a DEI crusade in Temple originated from a tragic traffic stop on Dec. 2, 2019, where a Hispanic police officer accidentally shot and killed a black motorist. According to news reports, the officer attempted to pull over the man for speeding. A brief chase ensued. At an intersection, the officer was able to block the car. The officer approached the car with his gun drawn. The man did not resist, but the officer accidentally pulled the trigger while reaching for the man's car keys.
Several months of vocal outrage ensued against the city from the local black community. That really rattled the local politicians, especially when the George Floyd riots began across America in the spring of 2020.
A Diversity, Equity, and Inclusion Commission is created
In mid-2020, the Mayor and City Council decided to pacify the situation by creating the Temple Diversity, Equity, and Inclusion (DEI) Commission, authorized in December, 2020. Its "official" purpose was to advise the city "on policies, programs, practices, and other matters to build greater equality within the Temple community by promoting equity and eliminating discrimination."
At first, it seemed fairly innocuous to conservatives. But this is a common tactic around the country: get a foot in the door, then proceed to impose big changes in the community.
Membership in the appointed nine-member DEI Commission was purposefully based on race, sex, and "sexual orientation" (all are black, female, or "LGBT"). Most of the members are clearly leftists. Many residents have complained that normal white males, who make up a large part of the community, were excluded.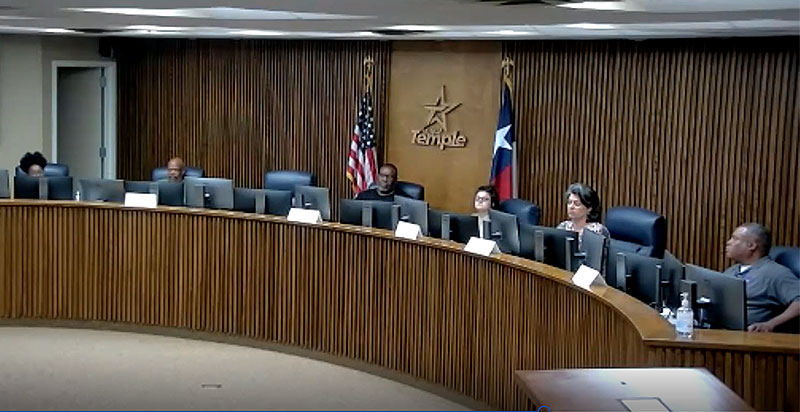 The first monthly meeting was on June 6, 2021. For a year, not much was heard from the Commission. Videos of the meetings were not easily available, and few people attended in person.
Facebook announces $800 million facility to be built in Temple – in exchange for what?
In March 2022 the parent company of Facebook announced that it would be building an $800 million data processing facility in Temple. Facebook would bring in hundreds of their employees to work there.
It's widely believed that in negotiating for this over the previous several months, the Mayor and City Council promised Facebook that the city would work to change the culture of Temple – to create and enforce government policies and city ordinances that correspond with Facebook's leftist San Francisco sensibilities.
It also became obvious that the Mayor and City Council intended to use the DEI Commission as a front to implement the "woke" agenda that they would create.
Bizarre outside group chosen to create radical city DEI agenda
In May 2022, several residents discovered that the DEI Commission was imminently preparing to drop a bomb, so to speak, on the city during its upcoming June 7 meeting.
It was revealed that The Nova Collective, a radical pro-LGBT organization based in Chicago, had been covertly chosen by the city to implement a comprehensive DEI plan in the city. This immediately shocked many citizens. This group is an extreme left-wing organization that promotes itself as "transforming organizations through a lens of equity." Nova's Facebook page has, among other things, videos promoting "Drag" crossdressing and transgenderism.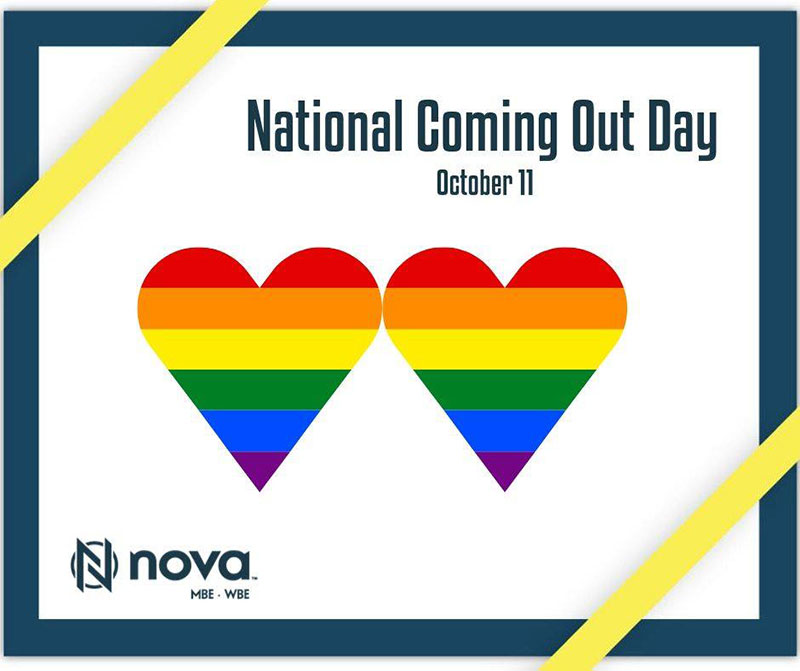 The City Council was using the DEI Commission as a front group for this. At its June 7 meeting the DEI Commission was going to hear a presentation about Nova from city employees, then vote to "recommend" that the city move forward with that group. From there, the City Council would vote at their meeting on July 7 to officially fund Nova and get the DEI program started.
People had a lot of questions. Why is this happening? How was this group selected? Who selected it? How much will it cost? What exactly are they going to force Temple to do?
CCC fires up local residents
Immediately upon hearing all this, Concerned Christian Citizens notified Christians across the city and quickly educated them about what was about to happen. Emails, flyers, and much more went out. Letters to the editor were published in the local newspaper.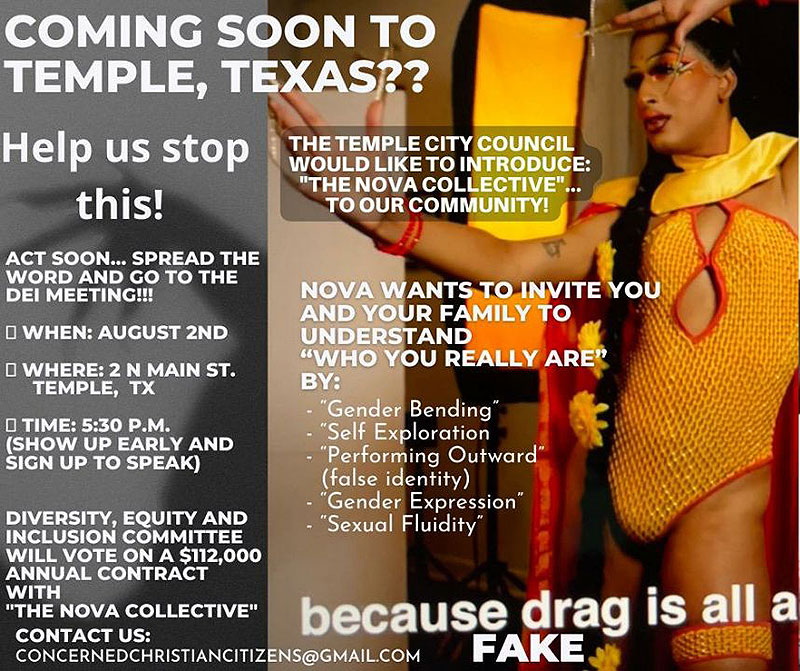 Citizens storm the Diversity, Equity, and Inclusion meeting!
On June 7, Concerned Christian Citizens brought over two dozen strong-willed local residents to the DEI meeting. (Nobody came to speak in favor of contracting with Nova.)
The "citizen comment" portion was at the beginning. They didn't hold back! Here's some of what the Commission heard:
People described in detail how Critical Race Theory, a veiled foundation of DEI, is not a unifying program at all, but a classic Marxist method of dividing society into "oppressed" and "oppressors."

One long-time public employee said that this was being used to discriminate against (and keep the city from hiring) people with certain religious convictions and political beliefs.

The dysfunctional use of the word "equity" was discussed, and how critical thinking is being discouraged in these programs.

A teacher for 25-year veteran teacher said that this will isolate the children in her class, and that the use of homosexual books will lead to the promotion of pedophilia.

A long-time pastor in Temple said that Nova's perverse agenda will affect the entire community in a destructive way.
And more … the DEI commission got an earful that they weren't expecting!
How the Nova group was brought in
After the public comment ended, the introduction of Nova was next on the agenda. Erin Smith, the Assistant City Manager, informed the Commission how all this had come about.
First, she said, the City Council, Mayor, and other city officials were given some "DEI 101 training" by an outside leftist firm, The MacMillan Group, for which the city paid an undisclosed amount. This apparently was to make sure that the city's top officials were suitably indoctrinated to move forward with the next steps.
Next was the explanation of how Nova was selected. Stacy Hawkins, the city's "director of performance excellence" started by identifying sixteen DEI consulting firms. She interviewed them and selected seven. Hawkins and Smith then jointly interviewed the seven firms, and selected Nova. They then gave a presentation on Nova to the City Council, which obviously agreed with their choice. Note that the DEI Commission was completely left out of this selection.
City's presentation about Nova
Next was a presentation to the DEI Commission about Nova. Smith began with this rather alarming introduction:
They are a company that is devoted to transforming organizational values no matter where they are on the DEI journey. They work with and cultivate DEI leaders to build equity and achieve meaningful lasting change.
She said Nova has been used by Facebook, CenturyLink, Goodwill, Walgreens, Comcast, and many other major firms, as well as government agencies such as Los Angeles County, the city of Denver, and the Air National Guard.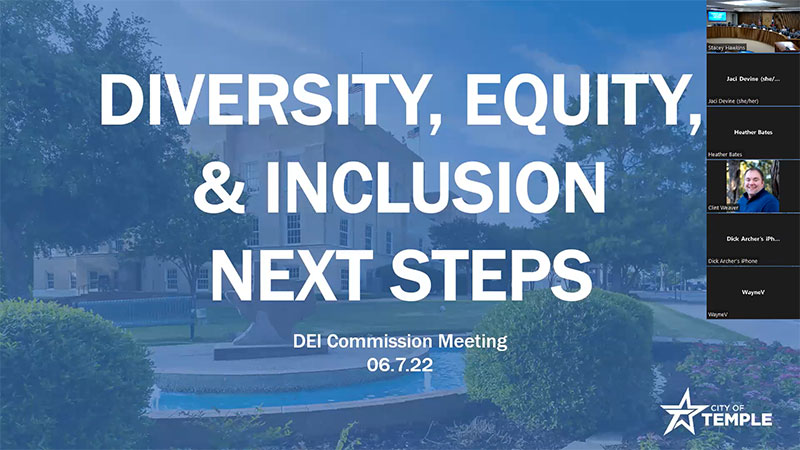 Regarding the process Nova will use, it had already been worked out between Nova and the city. Erin showed the slide below, with the ominous title "Organization-wide and Leadership-level alignment."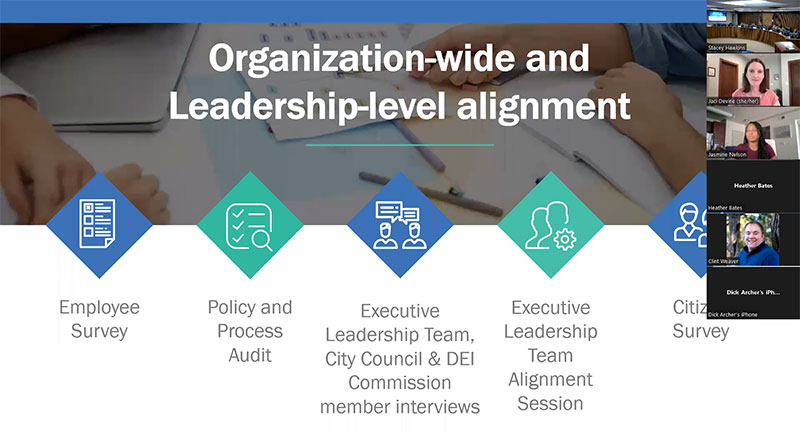 Smith discussed the steps in more detail. When understood in the larger context, this was also disturbing:
The survey of all city employees is a tool to uncover their so-called "biases" and will be used to design woke "solutions."
The policy and process audit will include all the city's current policies, procedures, hiring practices, etc. to measure how "diverse and inclusive" they are. The results will be used to "imbed DEI" into all of the city's "organizational values."
 The "interviews" with top city officials and the Temple DEI Commission members will be one-on-one interviews with Nova staff. The goal is to make sure that all of them "buy-in and support" the city's new DEI ideology – i.e., no critical thinking is allowed.
The executive leadership team alignment session appears to be a Maoist process where Nova directs the city officials to plan the ideological overhaul of Temple's government operations.
The "citizen survey" is similar to the employee survey – to uncover so-called "biases" in the community – and will lead to changes in the city's laws and ordinances to be more in line with DEI ideology and dogma.
All of this also leads to a "Strategic Roadmap" for the city, that codifies and extends the DEI reach even further. It covers diversity training for employees and others. It will address issues of "tension" – which means how to deal with anyone who resists the DEI program. It even includes discriminating among vendors the city hires depending on their DEI commitments!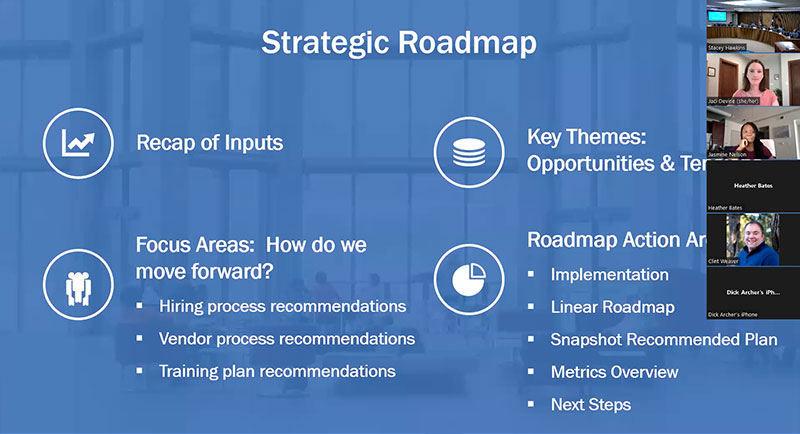 Questions from the Commission members
Next came questions from the Commission members about Nova and Erin Smith's presentation. Two people from Nova were also there via Zoom to answer questions.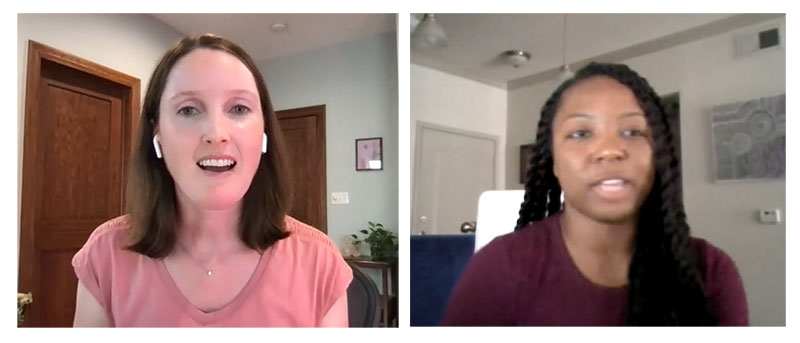 Several questions came from one of the Commission members, a conservative woman, who asked some tough, direct questions of Smith and the two Nova staffers. A few of the liberal Commission members tried to defend the process, without much success. Here's a synopsis of what was brought out:
Cost. There is no money currently budgeted for this. But it will cost the city approximately $112,000 annually over the next several years.
Cross-dressing and DEI. There was a big question about Nova's Internet post that says: "Drag provides a vehicle for self-exploration that empowers us to explore different aspects of ourselves." Nova could not explain how "drag" has anything to do with DEI.
What is DEI, anyway? It was acknowledged that neither the Commission nor the city could define exactly what DEI is, yet they are about to hire a firm to implement it! Maybe the city should define it first, it was suggested.
Disagreement equals "lack of education." One of the Nova staffers said that the reason that people don't accept the DEI agenda is that "the fear associated with it is due to lack of education" – and Nova provides the "education." In other words, there is no room for any legitimate disagreement, which they term as "fear." They also said that they consider disagreement as "resistance" that must be dealt with.
Not a good fit for Temple. Nova seems to think they're already hired. But there is a big concern that the vulgar "Drag" component and the LGBT posts on Nova's website and social media go against the morals of people in the community and are not a good fit for Temple. The core of Nova seems to challenge individuals' identities. Maybe the city needs to do more research with different agencies.
The Commission votes to TABLE the plan
The DEI Commission was clearly affected by the residents' outraged testimony and the unsettling responses to the tough questions after the presentation.
As the Commission was preparing to vote, several members said they weren't comfortable with this plan. They said that at least they needed much more information.
So rather than directly antagonize the city by rejecting it, they voted to table it. In fact, the process of "getting more information" could be indefinite – even though the city wants to begin immediately.
This is a big victory! All that remains is for the residents to stop the City Council from bypassing the DEI Commission. And that process ramped up at the July 7 City Council meeting!
The City Council gets an earful despite the Mayor's attempt to defend the project
Temple City Council meetings generally begin with a period for public comments from local citizens. But the July 7 Temple City Council meeting began with the Mayor, Tim Davis, making some statements in a dishonest attempt to mollify people about their concerns about the DEI plan.
Davis said that there would be no requirements for the citizens or the city to accept "the myriad of things that come with DEI." He said that Nova would "possibly" survey the city of Temple employees "to get an understanding of where they stand regarding the DEI concepts." From there the city would "possibly" put together a training program "so that city of Temple employees will be able to deliver the City of Temple's services to any minority community."
That is certainly different than what the two city employees – the assistant city manager and director of performance excellence – told the DEI commission.
Then came the public comments section. The residents weren't buying any of Davis's rhetoric, and for the next 25 minutes, one after another blasted the Mayor and City Council for this ridiculous and destructive proposal.
No action was taken at that meeting. And from what we've heard since then, the Mayor and City Council were a bit shell-shocked by the intense reaction from the community. There's a strong feeling that they may find a way to back off from it.
Final thoughts
More and more local residents are realizing that there is no need for a Diversity, Equity, and Inclusion program in Temple, Texas – or anywhere else. These are, in fact, Marxist concepts that were designed to cause division and antagonism between classes and races. They make conditions worse, not better.
But even in conservative Christian areas, this hideous agenda is brought in by corrupt politicians who do not care about the actual welfare of the people they were elected to serve, but seek to appear "sophisticated" to curry favor with unhinged leftists.
The pushback in Temple needs to be replicated across America.
Please help us continue to do our uncompromising work!
Our successes depend on people like you.
Your support will make the difference!