SEE: https://www.massresistance.org/docs/gen4/22a/WY-Board-votes-to-KEEP-graphic-kids-books/index.html;
republished below in full unedited for informational, educational & research purposes:
Library director strongly defends book. Says it serves a "perspective of human experience."
An example of the monstrous people running schools and libraries across the country.
Library Board chairman asks parents about MassResistance!
January 24, 2022
Over the last several months, our growing MassResistance chapter of local parents in Gillette, Wyoming has been working to stop their public library's promotion of pornographic homosexual and transgender books to children. It has been a shockingly difficult battle!
Many of us remember when public libraries (and schools) were safe, educational, and nurturing places for children. But over the last few decades, monstrous arrogant people with no moral compass have been attracted to these institutions. This disturbing report provides a window into how their minds work.
Parents have recently filed 57 formal "challenges" for the removal of 19 particularly horrible books in the children's and teens' areas. Every challenge has been rejected by the Library Director and her staff. Two of the books were simply moved to a different shelf within the library.
Citizens can appeal the library's rejection of a book challenge before the five-member Campbell County Library Board (which meets every month). As with other library boards across the country, they are supposed to represent the community in overseeing the library operations – but instead, they work to protect the library staff's radicalism from the community.
The Library Board meets to hear (and subvert) appeals by the parents
At the December 20, 2021, Campbell County Library Board meeting, citizens' appeals of books were on the agenda. Wyoming MassResistance parents came prepared.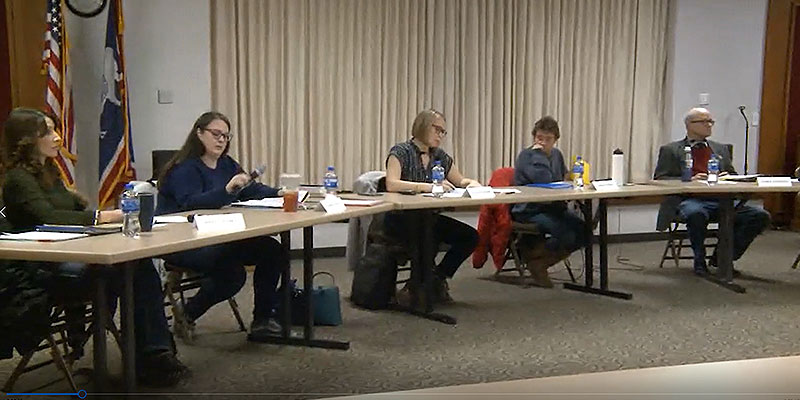 But the Library Board had also prepared for this meeting. They purposefully made it as intimidating as possible for the parents. We describe below what is in the above video.
Here's what happened:
Library Director describes their "professional" book acquisition process
[Beginning of video.] Before the parents were called up to make their appeal presentation, the Board Chairman called on the Library Director to describe the process for acquiring library books. This is known as the "collection policy."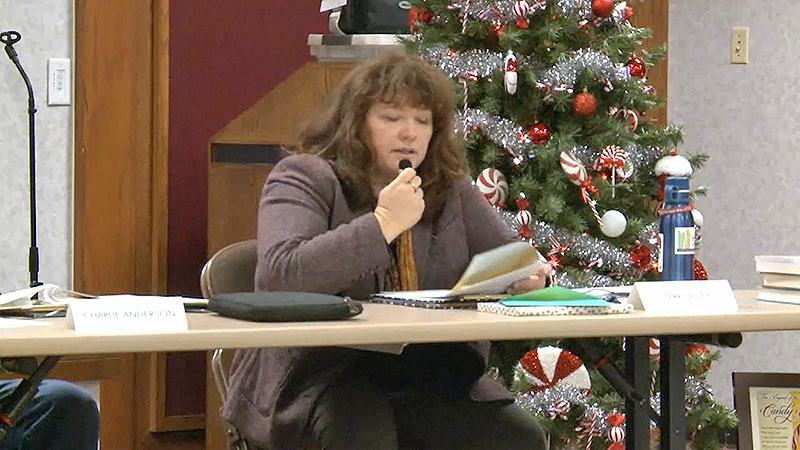 Reading from a prepared text, she described how the library's "highly trained professionals" followed the library's formal policy to add books to the collection. This includes consulting reputable book lists and sources, such as "professional journals, awards lists, analytic software, and local community demand." On the surface, it sounds appropriate and professional.
But looking closer, one can see that these "reputable" sources are actually far-left and radical pro-LGBT groups. The ALA recommends the Stonewall Book Awards, the Rainbow Book List, and Over the Rainbow Book List. In addition, the ALA produces its own LGBT book lists. (See here, here, and here.) The library's claim of "local community demand" usually means LGBT and other fringe groups. (The ALA actually sees the "Leather Archives and Museum" – BDSM radicals – as a legitimate source for developing collections. Surely, there are some BDSM practitioners in the Gillette area. Should their books be included?)
Thus, using these sources the library can "legitimately" cherry-pick from among the worst possible books for children.
The purpose of describing the "collection policy" was obviously to intimidate the parents and cast them as contradicting the "professionals." But to the parents, this had the opposite effect. It reinforced to them what a sham the library's so-called "official process" really is.
Parents present their appeal – of a vile children's book
[2:12 in video.] Two of the mothers were then called up to present their appeal of a book whose challenge had been rejected. The book is Trans Mission: My Quest to a Beard - a gruesome book about a girl "transitioning" her body to "become" a male.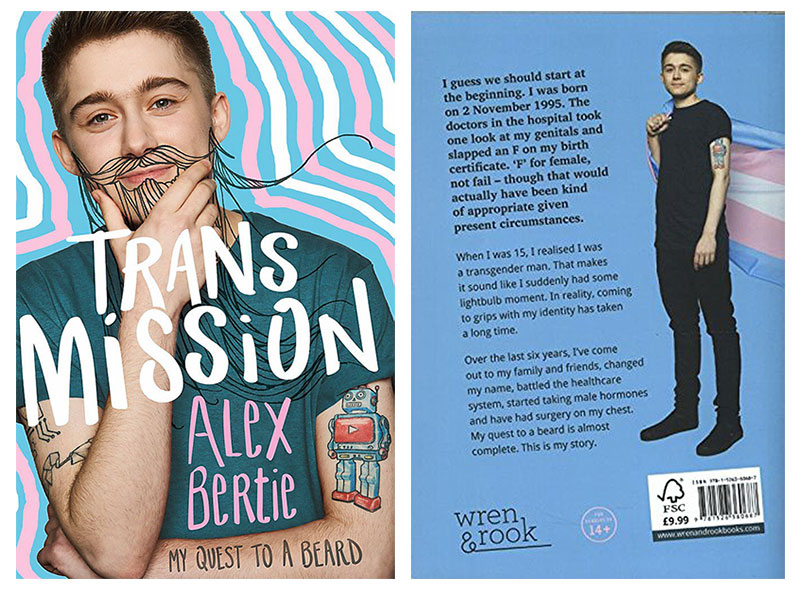 They started out by addressing the Library Director's "collection policy."
Terri, thank you for the presentation. But if you were using different policies this book wouldn't be allowed here. And I think that's the root of the problem of everything we've challenged ... and many others that promote radical perversion. We want to be proud of you guys. But we're ashamed. You've been very stubborn in refusing to remove the vilest, perverted books.
They went on to describe the book. It's an autobiography of a girl who hates everything about herself. She hates her breasts, hates her face, hates her skin.
She decides she's "really" a boy: It's as if someone had put her head onto an alien body. The book gives full instructions on how a girl can "bind" her chest to disguise her breasts. She talks about taking male hormones. She finally finds a doctor to do breast-removal surgery for her.
There is great detail on genital surgery ("bottom surgery"). There's even a page on how a girl can buy a device so she can stand up to urinate as if she were a boy.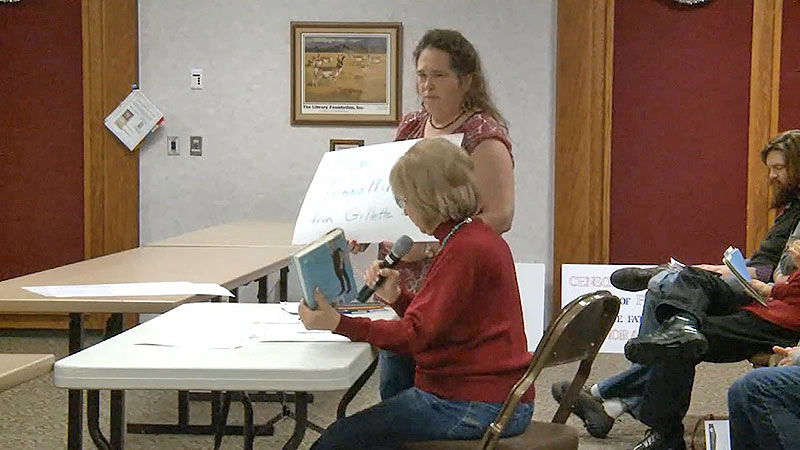 "I know that some of you think this is all normal. But it isn't," the mothers told the Board. They also read a fairly long list of terrible medical problems that follow these procedures.
Also in the book, the girl describes her sexual behavior. She engages in all sorts of sex: with lesbians, homosexuals, bisexuals, transgenders, etc. (known as "pansexuality"). She describes how to buy sex toys online while underage. She describes her great experience having sex with an older man. She speaks of the YouTube sex videos she has made since she was 14. (Clearly, the author has a lot of mental health issues.)
The book also goes on for pages promoting a radical LGBT agenda and displays hatred of anyone who questions it.
Profanity is infused throughout the book. The "F-word" is used numerous times.
 "Why would we want our children to read about this?" the mothers asked. Not only is this book clearly promoting deviant sex practices, but it would seem that the people who promote such a book likely have sexual dysfunction issues themselves.
The mothers added that it's also concerning that the schools drop children off at the library, and there are many children there without parental supervision who could easily pick up this book.
Board members interrogate the parents
[12:43 in video.] A few of the Board members then asked the mothers some questions. These questions reflected how disconnected from the reality of normal community concerns their thought processes are. But this mother wasn't the least bit intimidated.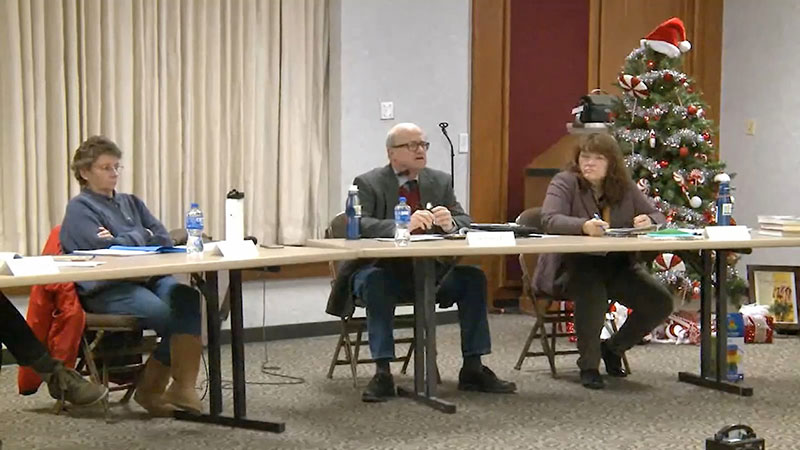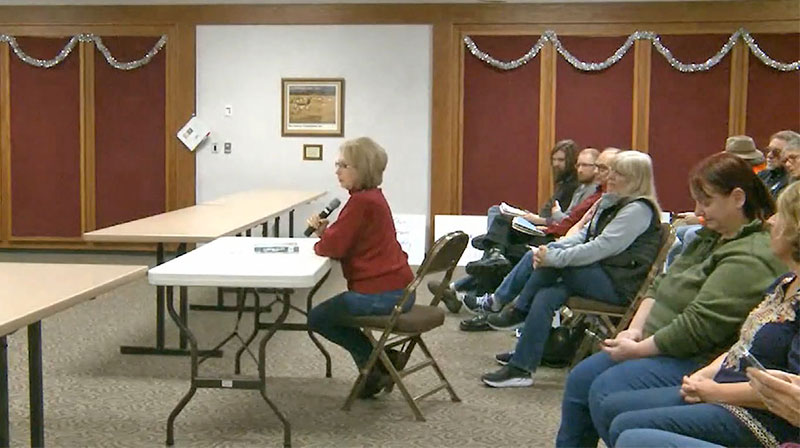 Here is a summary of some of the questions:
Q: Was it your feeling that it glamorized the lifestyle?
A: Not so much glamorizing it, but promoting it through peer pressure. If children already have issues, these books are very dangerous for them.
Q: Are you saying that we move this book into the adult section from the children's section?
A: Traditionally, people go to adult bookstores to get their sexual perversion. I would prefer that our library is not a porn library.
Q: When I read the book, I felt that it didn't glorify it at all or promote it. When I read it, I thought it was just a book that explained what this particular person was going through. I didn't see anything that would be particularly attractive to making that choice.
A: It's being put in front of children whose brains are not fully developed. And traditionally in our country, we like to educate our children with higher morals and higher intellect than we're seeing right now. There are plenty of good books that they could be reading instead of this which I don't see in the library here. 
Q: I've looked, and this book is in several other Wyoming public libraries.
A: All across our nation the public is waking up about this. It's just a matter of time. It's going to be happening across the country. Our library should be at the forefront.
Q: Are you familiar with MassResistance?
A: Yes.
Q: Did you first hear about this book through MassResistance? Do you know that they list books?
A: I haven't seen a list. I do my own research I've been to the library many times. I've spent hours in the various sections. I found these books myself. I care about children.
Q: Do you think a person is born in the wrong body, or do you think that's made up?
A: My opinion doesn't matter in areas like that. I'm just against sexual content like this being exposed to children. If someone's 18 years old and they want to be a dog, it's a free country. But like most responsible adults, we believe children should have their innocence. Let the parents be in charge. And they don't know.
Library Director delivers statement defending the book
[19:52 in video.] Before taking a vote, the Chairman, Charlie Anderson, leaned over and asked the Library Director to make a statement for the record defending the book. She already had it written, and she read it.
Its banal, bureaucratic tone was so arrogant and insulting that we transcribed the entire statement here.
Here are the major points in her defense of the book:
She completely ignores concepts of morality or any appropriateness for children. She simply says that the library has a "singular obligation" to reflect "differing points of view on controversial or debatable subjects" and "all perspectives of human experience."
She says that people have the right "not to read or check out any individual book" and "there are 1,200 other books that somebody could check out." But this book "serves the educational research needs of secondary students." And even moving the book to an adult section would be "censoring it."
Parents have a responsibility to monitor what their children are reading, she says, and there's a process where they can see what their kids check out. [MR comment: Though not what they pick up and read while in the library].
She points out that the book is definitely appropriate for children. She says that "several professional library journals" have recommended this book for children ages 13 and up.
The intent is "to inform and educate about the Transgender experience." The book is meant to support individuals who may be "considering gender transition."
She believes that this book is credible because "this author has a significant YouTube following" and because it is written, "as an informational resource about gender dysphoria and the author's experience in transitioning from female to male." Thus, this would also be a good guide for parents who have children who have these feelings, she said.
Regarding the profanity, she says "the tone is factual, though slightly informal to appeal better to a teen audience." She says the book "does not necessarily include sexual encounters."
This was like something out of a bad futuristic movie – except that it's happening now.
The Board votes to reject the appeal
[25:18 in video.] Library Board Chairman Charlie Anderson asked if there was any discussion by the Board. But there was none, so they voted. It was a stiff 4-1 vote to reject the appeal. The "yes" vote came from Mandy Steward, the "moderate" (or secret conservative?) on the Board.
Unfortunately, Steward said nothing during the discussion. This is not a borderline kind of issue. This book is not legitimate "information" by any normal standard. It is a catalog of perversion. But we'll gladly take her vote.
Final thoughts
The late Judith Reisman, who did decades of research on this subject, often observed that the people who work in schools and libraries make this material available to young people because deep down they hate children. From our experience over the years, we would add that it is not an exaggeration or hyperbole to say that parents are dealing with people who have no conscience, no morals, and no souls.
Sadly, too many parents – and conservatives – do not appreciate the scope of what they are up against. Hopefully, this report will help.
Coming next: This was not the only book on the agenda for an appeal at that Library Board meeting. You won't believe what happened with the second book! We will report on that soon.
Please help us continue to do our uncompromising work!
Our successes depend on people like you.
Your support will make the difference!