Rumble — REAL AMERICA -- Dan Ball W/ Nicole Neily, Biden Collusion With Teacher's Union, 1/14/21
THIS SCHOOL IS BRAINWASHING (PROSELYTIZING) CHILDREN, GRADES 1 THROUGH 5, INTO SATANISM, PAGANISM WITH TAX DOLLARS. SATANIC TEMPLE CLAIMS THEY ARE ONLY TEACHING SECULAR HUMANISM (AS A REPLACEMENT OF CHRISTIAN DOCTRINES).
REVELATION 21:8-"But as for the cowardly, the faithless, the detestable, as for murderers, the sexually immoral, sorcerers, idolaters, and all liars, their portion will be in the lake that burns with fire and sulfur, which is the second death."
REVELATION 20:10-"And the devil who had deceived them was thrown into the lake of fire and sulfur where the beast and the false prophet were, and they will be tormented day and night forever and ever."
2 PETER 2:4-"For if God did not spare angels when they sinned, but cast them into hell and committed them to chains of gloomy darkness to be kept until the judgment"
MATTHEW 23:33-"You serpents, you brood of vipers, how are you to escape being sentenced to hell?"
MARK 9: 43-48-"And if your hand causes you to sin, cut it off. It is better for you to enter life crippled than with two hands to go to hell, to the unquenchable fire. And if your foot causes you to sin, cut it off. It is better for you to enter life lame than with two feet to be thrown into hell. And if your eye causes you to sin, tear it out. It is better for you to enter the kingdom of God with one eye than with two eyes to be thrown into hell, 'where their worm does not die and the fire is not quenched.'"
LUKE 12:5-"But I will warn you whom to fear: fear him who, after he has killed, has authority to cast into hell. Yes, I tell you, fear him!"
MATTHEW 16:18-"And I tell you, you are Peter, and on this rock I will build my church, and the gates of hell shall not prevail against it."
2 THESSALONIANS 1:8-9-"In flaming fire, inflicting vengeance on those who do not know God and on those who do not obey the gospel of our Lord Jesus. They will suffer the punishment of eternal destruction, away from the presence of the Lord and from the glory of his might"
BELOW: Rachel Savage, Moline-Coal Valley Schools Superintendent, says the flyer prompted a response from district leadership, who emphatically assured parents that "No teachers from Jane Addams, or any other district teacher, are involved" and "Flyers were not distributed to all students".
SEE SUPERINTENDENT'S MESSAGE TO PARENTS HERE: https://www.molineschools.org/apps/news/article/1552392
WILLING TO SACRIFICE CHILDREN ON THE ALTAR OF SATAN SO SHE CAN AVOID PAYING LEGAL AND COURT FEES
EXCERPTS BELOW FROM: https://nypost.com/2022/01/14/illinois-school-district-defends-satanic-club-at-jane-addams-school/
"__the elementary school already offered a "child evangelism fellowship club" and wanted to bring their program to the school "to offer parents a choice of different viewpoints," the superintendent said." Thirty flyers were sent to the school from the Satanic Temple and were placed in the school lobbies, as are all flyers for organizations and events at the school that are "religious in nature."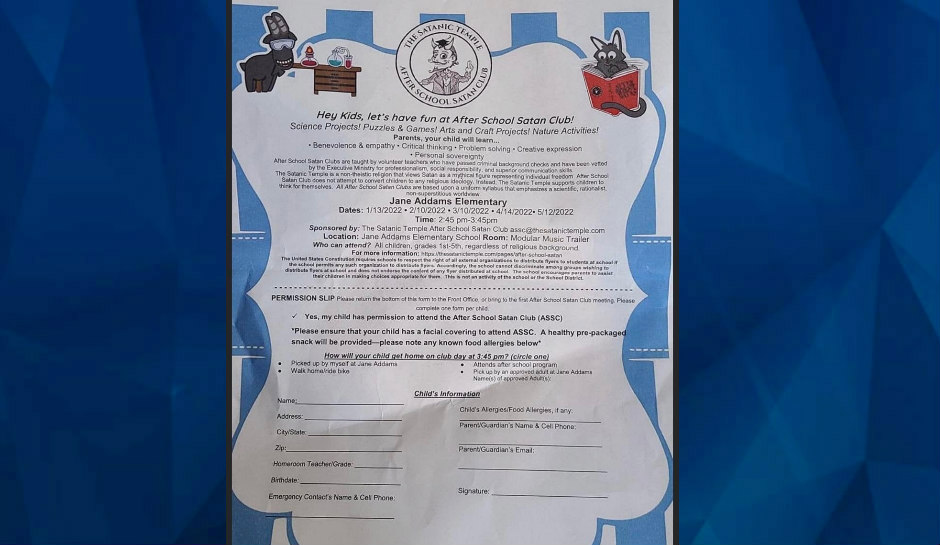 "To illegally deny their organization (viewpoint) to pay to rent our publicly funded institution, after school hours, subjects the district to a discrimination lawsuit, which we will not win, likely taking thousands upon thousands of tax-payer dollars away from our teachers, staff, and classrooms," Savage wrote.
The Satanic Temple says it views Satan as a "mythical figure representing individual freedom," according to its website.
"Satanists should actively work to hone critical thinking and exercise reasonable agnosticism in all things," the temple says. "Our beliefs must be malleable to the best current scientific understandings of the material world — never the reverse."
The Satanic Temple – essentially an activist group and think tank more than a religious institution – said the program is available at select public schools where Good News programs exist and is meant to be educationally enriching. Members have no intention of converting children to Satanism. "Proselytization is not our goal, and we're not interested in converting children to Satanism," the temple says about the program on its website. "After School Satan Clubs will focus on free inquiry and rationalism, the scientific basis for which we know what we know about the world around us."
"We prefer to give children an appreciation of the natural wonders surrounding them, not a fear of everlasting other-worldly horrors."
_________________________________________________________________
SEE: https://americanfaith.com/illinois-after-school-satan-club-receives-pushback-from-parents/;
republished below in full unedited for informational, educational & research purposes:
An Illinois middle school is under fire after they began to host an after-school program called a "Satan club" throughout the year.
QUICK FACTS:
Parents at Jane Addams Elementary School in Moline, Illinois, are looking for a change after their children were invited to an "after-school Satan club."

The after-school program was hosted by the Satanic Temple and targeted kids from first through fifth grade, according to The Washington Examiner.

Parents began to voice their objections after a flyer advertising the club was posted online showing five dates through the spring semester when kids could attend.

The description of the Satan club promises the kids will participate in "science projects, puzzles and games, arts and crafts projects, [and] nature activities."
WHAT PARENTS & OFFICIALS ARE SAYING:
One parent posted the flyer to social media asking "How is this even a thing" and adding that, "I just know they're about to catch hell because I would be going tf off," the Examiner reported.

Moline-Coal Valley School District spokesperson said the district has "policies and administrative procedures in place which allow for community use of its publicly funded facilities outside the school day," according to FOX 2, explaining that opportunities extend to all religious groups to book the facilities.

"Flyers and promotional materials for these types of groups are approved for lobby posting or display only, and not for mass distribution," the spokesperson said. "Please note that the district must provide equal access to all groups and that students need parental permission to attend any after-school event. Our focus remains on student safety and student achievement."
BACKGROUND:
In 2016 The Washington Post reported about "An After School Satan Club could be coming to your kid's elementary school" reporting on the Satanic Temple's plan to "bring their wisdom to the nation's public elementary school children."

"It's critical that children understand that there are multiple perspectives on all issues and that they have a choice in how they think," said Doug Mesner, the Satanic Temple's co-founder, according to the Post.