Waukesha Massacre Suspect Tied to Radical Islamic Group. Leftist D.A. Laments Bail That Let Suspect Out of Jail
$5 MILLION DOLLAR BAIL SET
Darrell E. Brooks, Jr. Has Ties To Radical Islamic Group
Darrell Brooks Belongs to Black Supremacist Sect of Islam Called

'The Five Percent Nation'

; He Committed Vehicular Jihad
BY R. CORT KIRKWOOD
SEE: https://thenewamerican.com/waukesha-massacre-suspect-tied-to-radical-islamic-group-leftist-d-a-laments-bail-that-let-suspect-out-of-jail/;
republished below in full unedited for informational, educational & research purposes:
The suspect in Sunday's Waukesha Christmas Parade Massacre, who will be charged with five counts of intentional homicide today, is a Muslim black supremacist and dangerous felon wrongly released from jail.
Conservative writer Laura Loomer reported that career criminal Darrell E. Brooks, Jr. is a member of the unhinged Five Percent Nation, a group of dangerous Islamic crackpots.
Meanwhile, Milwaukee's leftist District Attorney John Chisholm confessed that Brooks never should have been allowed to post a $1,000 bail given the crimes with which he was charged when he was freed from jail last week.
In other words, had Brooks been in jail where he belongs, he wouldn't have been able to mow down 53 people as he fled the scene of yet another crime. Five of those people are dead thanks to the leftists who run the Milwaukee district attorney's office.
Loomer Report
The Loomered report links Brooks to the Five Percent Nation through his social media name, MathBoi Fly.
The Five Percenters, Loomer wrote, believe the world is divided into three categories:
85% of the world's population, which includes White people, are described as "uncivilized people, poison animal eaters, slaves from mental death and power, people who do not know the Living God or their origin in this world, and they worship that which they do not know. They are easily led in the wrong direction, but hard to lead into the right direction."

The other 10% of the world's population is described as, "the rich, slave makers of the poor-who teach the poor lies, to believe that the Almighty, True and Living God is a spook and cannot be seen by the physical eye. Otherwise known as the Blood Suckers of the poor."

The last five percent, known as the "Five Percent Nation" are described as, "the poor, righteous Teachers, who do not believe in the teachings of the 10%, and are all wise and know who the living God is, and teach that the Living God is the Sun of man, the Supreme being (the Black Man) of Asia, and Teach freedom, Justice, and Equality to all of the human family on planet Earth."
Brooks's social-media moniker, she wrote, is the link to this bizarre outfit. He bills himself as MathBoi Fly because the Five Percent Nation says "Supreme Mathematics and Supreme Alphabet are the keys to understanding humans' relationship with the universe."
He also posted a meme featuring Adolf Hitler with a long quote about Jews. Brooks thinks that "religion is white supremacy."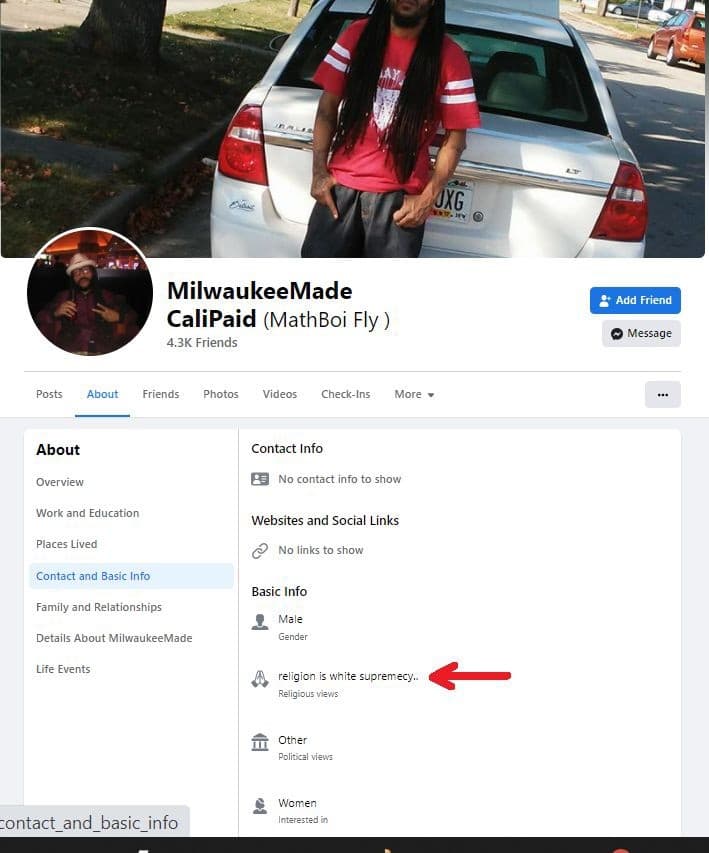 DA Chisholm
For his part, Chisholm is running for cover. He explained in detail how Brooks wound up in a position to plow into the Christmas parade.
In July, Chisholm wrote, his office charged Brooks with second-degree recklessly endangering safety and felon in possession of a firearm. Bail was set for $10,000, then reduced to $7,500. 
In February, still in jail, Brooks demanded a speedy jury trial. The state could not comply, and so reduced his bond to $500. 
Two weeks ago, as The New American reported yesterday, prosecutors charged him with five crimes:
second degree recklessly endangering safety;

felony bail bumping;

battery, obstructing an officer, and disorderly conduct
Those were the charges that invited the $1,000 bond requested by Chisholm's office. In that case, as Milwaukee's Journal Sentinel reported, the victim told cops that "Brooks purposefully ran her 'over with his vehicle' while she was walking through a gas station parking lot after he had followed her there after a fight, according to the criminal complaint."
So Brooks had already tried to run over one person, which prosecutors didn't think was a good enough reason to keep him in jail.
That bail "was inappropriately low in light of the nature of the recent charges and the pending charges against Mr. Brooks," Chisholm said:
The bail recommendation in this case is not consistent with the approach of the Milwaukee County District Attorney's Office toward matters involving violent crime, nor was it consistent with the risk assessment of the defendant prior to setting of bail.
Now he tells us, the victims and their families must be saying. 
In 2018, Chisholm bragged about springing criminals such as Brooks from jail:
Brooks is scheduled for court today at 4 p.m., the Journal Sentinel reported.
________________________________________________________________
Darrell Brooks Belongs to Black Supremacist Sect of Islam Called 'The Five Percent Nation', He Committed Vehicular Jihad
BY LAURA LOOMER
SEE: https://loomered.com/2021/11/22/exclusive-darrell-brooks-belongs-to-black-supremacist-sect-of-islam-called-the-five-percent-nation-he-committed-vehicular-jihad/
EXCERPTS:
LOOMERED was first to exclusively report the identity of the Waukesha, WI attacker, Darrell Brooks. Our investigative reporting confirmed that he was the attacker and owner of the RED SUV used in Sunday's Christmas Parade attack that left at least 5 people dead, and dozens more injured.
We were also first to report that his social media was littered with anti-white and anti-Jewish posts that encouraged the killing of White people and posts that celebrated Hitler for being "right about the real Jews".
This publication was early to note and report Darrell's ties to Black Lives Matter, and the fact that he used a vehicle to murder people in an act of vehicular jihad. Laura Loomer posted that the suspect was likely a black Muslim, and now we can exclusively confirm that Darrell Brooks is a supporter of The Five Percent Nation, otherwise known as the Nation of Gods and Earths (NGE or NOGE), a sub-sect of the Nation of Islam (NOI).
The Five Percent Nation is a black nationalist movement influenced by Islam. Members of the group call themselves "Allah's Five Percenters". The Fiver Percent Nation preaches black supremacy and teaches that black people are the original inhabitants of planet earth and that the white man is an evil devil.
The term "Five Percenter" comes from the "five percent" who are described in Nation of Islam in their "Lost-Found Muslim Leason No.2".
Darrell Brooks's social media posts, particularly one of his Twitter posts from October 2015, prove that he was a black supremacist and a supporter of Malcolm X, who was also a Muslim, and a spokesman for the Nation of Islam. 
His social media posts show that he also had hatred for Jews. In one Facebook post from November 2015, he said "Hitler knew who the real Jews were."
The Five Percent Nation doesn't believe in a God, but they instead believe that the "Asiatic Blackman" is God and that his name is "Allah", the Arabic word for God.
LOOMERED was first to boldly report that Darrell Brooks was a black Muslim and that his weapon of choice was a vehicle, making his terrorist attack on White people an act of vehicular jihad.
On his SoundCloud, he raps about his love for Malcolm X, hate for White people, and carrying his AK 47.