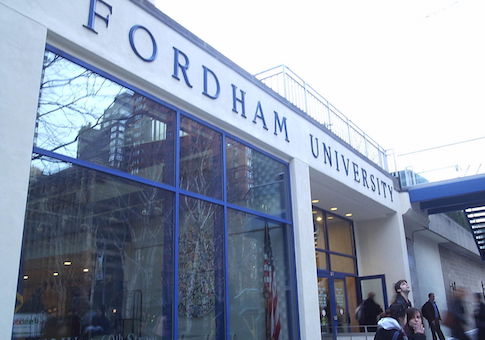 BY CHRISSY CLARK
SEE: https://freebeacon.com/campus/chinese-immigrant-sues-university-for-sanctioning-tiananmen-post/;
republished below in full unedited for informational, educational & research purposes:

A Fordham University student kicked off campus for posing with his legally owned firearm filed a lawsuit on July 23 alleging the school violated its commitment to free expression.
Rising senior Austin Tong, a Chinese immigrant who posted the picture in honor of the 1989 Tiananmen Square massacre, filed a lawsuit against Fordham, the school's president, and the dean of students. The suit alleges the university violated its free expression covenant with students by disciplining Tong for "lawful, constitutionally protected, and non-threatening social media posts on Instagram."
"Fordham's policies and rules, as well as basic First Amendment jurisprudence, make it abundantly clear that uncomfortable or unpleasant impact on a speaker's audience is not a proper ground to restrain the speech in question," the lawsuit reads.
The suit calls on the school to annul all disciplinary sanctions, admit that Tong's social media posts are a permitted exercise of free speech under Fordham's speech code, and award relief for the breach of contract between Fordham and Tong.
In its mission statement, Fordham guarantees the freedom of inquiry among other freedoms, but the explicit promise of free speech can be found in the school's demonstration policy.
"Each member of the University has a right to freely express his or her positions and to work for their acceptance whether they assent to or dissent from existing situations in the University or society," the policy reads.
Tong was told in a disciplinary letter from the university that he cannot return to campus and must complete his degree online while his peers return to campus. Tong cannot hold a leadership position on campus, must write an apology note to the school, and must complete a bias training or face suspension or possible expulsion.
The lawsuit alleges the sanctions against Tong are "damaging and humiliating" for the student as well as "draconian." The disciplinary actions force Tong to choose between his beliefs and a degree from his university of choice.
"These sanctions have placed Tong in an untenable position," the lawsuit reads. "He must either (1) abandon his principled beliefs, forfeit his right to lawful expression, and submit to Fordham's unconscionable discipline, or (2) face suspension or expulsion from Fordham, which would severely damage his future academic and employment prospects."
Tong told the Washington Free Beacon he believed he had a good relationship with dean of students Keith Eldredge before posting his Instagram photos. "Not even a Chinese university would do this to their students," he said.
The university did not respond to multiple requests for comment.
"The end result is that Tong and other students who do not adhere to the political orthodoxy of Fordham's administrators are turned into outcasts," the lawsuit reads. "Other individuals who wish to speak out with potentially unpopular but good faith viewpoints are discouraged from exercising their right of free expression."
Tong's lawyer Brett Joshpe said he could not comment on the pending litigation, but said there will be additional claims for "the massive damages caused."
__________________________________________________________________________________________________
Fordham University Punishes Pro 2A Student
BY JOE SILVERSTEIN
SEE: https://www.thecornellreview.org/fordham-university-punishes-pro-2a-student/;
republished below in full unedited for informational, educational & research purposes: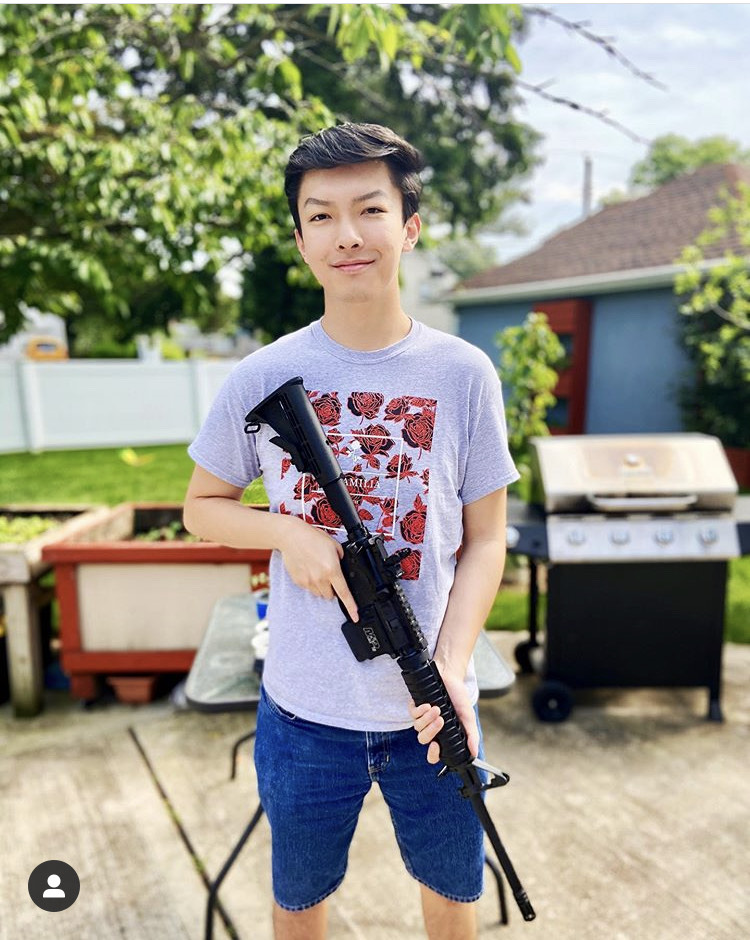 Austin Tong, a rising senior studying business at Fordham University, was recently banned from campus after posting an image of himself holding a legally purchased rifle. In a previous post, Mr. Tong also shared a picture of David Dorn, with the caption, "Y'all a bunch of hypocrites." Dorn was a retired police officer who was murdered while protecting a local store during a riot in June. Many have criticized Black Lives Matter for failing to protest the death of David Dorn, who was African American. These two posts were made on June 3rd and June 4th.
In a letter composed on July 14th, Keith Eldredge, the Dean of Students at Fordham University, notified Mr. Tong that a student conduct hearing had found the posts to be in violation of the university's policies regarding "bias and/or hate crimes [and] threats/intimidation." As a result of his alleged transgressions, Mr. Tong was barred from serving as an officer in any student groups, banned from campus, and instructed to complete the remainder of his degree online. Additionally, Austin was ordered to complete mandatory implicit bias training and write a letter of apology. He has refused to do so. 
 In an interview on The Joe Silverstein Podcast, Brett Joshpe Esquire, who is representing Mr. Tong stated, "He's not going to be forced into issuing an apology when he did absolutely nothing wrong." Mr. Joshpe went on to emphasize the importance of protecting freedom of speech in academia. "[College campuses] are supposed to be places where vigorous debate can happen… It is precisely the controversial topics that need to be protected vigorously and college campuses are exactly where those debates should be taking place."
The case of Austin Tong is not an isolated incident. Increasingly, we have seen conservative students, faculty, and organizations systematically targeted in higher education. At Cornell University, Professor William Jacobson became the target of a smear campaign after criticizing Black Lives Matter.  In an unprecedented move, Eduardo M. Peñalver, Dean of Cornell Law School, harshly criticized Jacobson for his extramural political speech. Petitions, student boycotts, and allegations of racism quickly followed. Similarly, at Binghamton University, the College Republicans were suspended after tabling to promote a forthcoming event featuring Dr. Arthur Laffer. The university claimed the College Republicans were in violation of university and Student Assembly policies and publicly rebuked the group in a statement. However, the administration failed to take punitive action against violent agitators who assaulted and threatened the conservative students. 
Since Fordham is a private university, they do not have the same first amendment obligations as their public counterparts. However, they do have a responsibility to adhere to their own published policies regarding freedom of speech. Consequently, Joshpe Mooney Paltzik LLP filed an Article 78 Petition alleging that Fordham acted arbitrarily and capriciously in violation of its own policies. "We are prepared to fight for people like Austin Tong, who are prepared to fight for themselves." 
__________________________________________________________________________________________________
TONG VS. FORDHAM LAWSUIT:
SEE: https://iapps.courts.state.ny.us/fbem/DocumentDisplayServlet?documentId=avKDhKs0whNNB2DJEulcUA==&system=prod
_________________________________________________________________________________________________
JOSHPE, MOONEY, PALTZIK LLP LAW FIRM IN NEW YORK CITY:
SEE: https://www.jmpllp.com/#contact
________________________________________________________________________________________________
FOUNDATION FOR INDIVIDUAL RIGHTS IN EDUCATION LETTERS & ARTICLES:
SEE: 
https://www.thefire.org/fire-letter-to-fordham-university-july-17-2020/
https://www.thefire.org/advice-to-fordham-ignoring-fire-will-only-get-you-scorched/
https://www.thefire.org/fordham-student-on-campus-probation-for-instagram-photo-holding-a-gun-memorializing-tiananmen-square-massacre/
https://www.thefire.org/fordham-university-named-one-of-americas-10-worst-colleges-for-free-speech-after-banning-students-for-justice-in-palestine/
_________________________________________________________________________________________________________
FORDHAM OBSERVER NEWS, LINCOLN CENTER CAMPUS, MANHATTAN, NEW YORK CITY:
SEE:
https://fordhamobserver.com/49644/opinions/how-do-you-solve-a-problem-like-austin-tong/
https://fordhamobserver.com/48725/news/student-pledges-lawsuit-against-university-disputing-disciplinary-actions/
EXCERPTS FROM SECOND ARTICLE ABOVE WHICH ARE SUPPORTIVE & NOT SUPPORTIVE:
"Numerous users expressed support for Tong, commenting that the university infringed on his right to free speech without reasonable cause. Conservative news outlets Campus Reform, The Epoch Times and The Glenn Beck Program have also reported on Tong's case, which Tong praised on July 16 on Instagram."
"An equally large number of users opposed Tong, commenting that the posts provoked fear and were insensitive amid the Black Lives Matter movement, which has led and amplified a widespread outcry against violence."
""Austin, I am extremely disappointed that you are actively utilizing your platform to invalidate the BLM movement rather than using your time to facilitate conversations about the issues at hand/trying to raise awareness," Carrie Kinui, Fordham College at Lincoln Center '21, commented on Tong's post of Dorn."